World Cup Trophy Showing Halted by Brazil Police-Protester Clash
David Biller and Raymond Colitt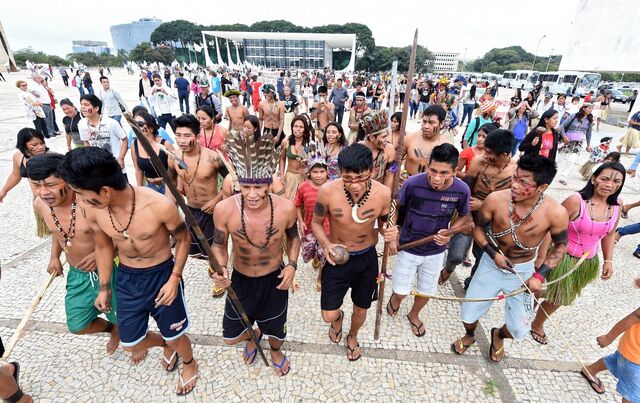 An event showcasing the World Cup trophy was called off after anti-tournament protesters and indigenous groups battled security forces in Brasilia. One police officer was shot by an arrow.
World Cup sponsor Coca-Cola Brasil closed an event displaying the soccer tournament's trophy at the new Brasilia stadium. Members of indigenous groups demonstrating for land rights joined forces with others targeting the World Cup, according to a statement from the government of the federal district. Television images showed protesters pelting security personnel with rocks and police deploying tear gas to disperse the crowd.
Fifteen days before the world's most-watched sports event kicks off, protests against the World Cup have flared up again. Some demonstrations echo grievances of last year's street protests that were the largest in two decades and criticized public spending to host the games. Construction of the 12 new or refurbished stadiums has been plagued by delays and cost overruns.
Nearly 2,000 protesters marched toward Brasilia's soccer stadium, newspaper Estado de S.Paulo reported. They came within 1 kilometer (0.62 mile) of the $900 million arena, according to the press office of Brasilia's military police. Soccer's governing body, FIFA, said it supports peaceful demonstrations and regrets yesterday's violent protests affected the exhibition. Coca-Cola Brasil released a similar statement.
"The company regrets that the protest in Brasilia impeded hundreds of people who waited in line from seeing FIFA's World Cup trophy," the company said in its statement. "In the name of everyone's safety, the visit was closed early on the recommendation of public authorities."
Security forces acted appropriately to protect the general public from the demonstrations, which according to police estimates attracted close to 1,000 protesters, the Federal District government said in the e-mailed statement.
One injury resulted from the confrontation -- a police officer wounded in the leg with by arrow shot from an indigenous person's bow, according to the press office of the military police.
The latest estimate for stadiums shows costs of about 8 billion reais ($3.6 billion), 2.7 billion reais more than the first detailed estimate issued in 2010 and almost four times the amount Brazil told FIFA stadiums would cost in its 2007 hosting file.
Before it's here, it's on the Bloomberg Terminal.
LEARN MORE