Why Europe's Vote for Change Won't Dent German Power
By and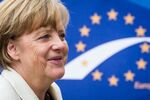 French President Francois Hollande had a bad Monday, when his Socialist Party, already deeply unpopular, finished third in the weekend's European Parliament elections. British Prime Minister David Cameron is having a bad week, too. His ruling Conservatives finished third in the same elections in the U.K., though at least the Tories will get to keep their jobs. The head of Spain's Socialist Party said he'll resign after a poor showing, and Ireland's deputy prime minister stepped down for the same reason.
German Chancellor Angela Merkel is doing just fine. Her Christian Democrats won. Within the European Parliament, German Christian Democrats pool their seats with conservative parties from other countries to form the European People's Party. The grouping lost some seats this weekend, but with help from the German contingent it remains the largest bloc. And Germany's 96 members of the European Parliament give it the single largest MEP delegation to Strasbourg of any European country. As in every year.
A lot of politicians in Europe were handed instructions this weekend to make dramatic changes; Merkel was not. This is a shame because the one thing that all of Europe's newly victorious protest parties have in common—the U.K. Independence Party, France's Front National, Greece's Syriza—is an expression of frustration with the way Europe has been run for the last five years. Europe has been run largely in keeping with German public opinion and Merkel's clearly stated goals: that there will never be a transfer union, that the worst monetary sin is the risk of inflation, and that the sole remedies for unemployment are structural reform and lower salaries.
European Parliament elections have always been difficult to interpret. Europeans are not confident that their shared parliament in Strasbourg does anything, and turnout is normally lower than in national elections. Worse, no Europe-wide parties with common interests cross borders. Democratic politicians in Washington can be roughly confident that a vote in Wisconsin means the same thing as a vote in New York, so they can caucus together and carry out the same mandate. Not so in European Parliament elections.
Of the rebels, Nigel Farage, leader of the U.K. Independence Party, has ruled out forming a coalition with the National Front. Marine Le Pen, head of the National Front, has, in turn, ruled out forming alliances with Greece's Golden Dawn and Hungary's Jobbik, two extreme-right parties that also picked up seats. Alternatives for Germany, a party of German conservatives that won seats for the first time this weekend on a campaign to reorder the euro zone, wants to caucus with Cameron's Tories; Cameron is uninterested.
No matter what Farage and Le Pen decide to do, they're not going to dismantle the EU. A YouGov poll completed a week before the election found that 51 percent of British voters and 71 percent of voters in France want their countries to remain in the EU. A separate poll completed earlier in the month by the Pew Research Center found that public attitudes toward the EU have been improving, with 52 percent of British voters holding a favorable opinion of the union, up from 43 percent in 2013. In France, the figure rose from 41 percent in 2013 to 54 percent this year.
An additional survey, conducted earlier this spring for the EU, found 71 percent of European voters saying they mistrusted their national governments, compared to 59 percent who said they mistrusted the EU. Even in Greece, the European country hardest hit by austerity measures, voters had a more-favorable view of the EU than they did of the government in Athens.
Europe's protest parties appeal fundamentally to "voters who feel they aren't being listened to," says Mats Persson, director of Open Europe, a London- and Brussels-based think tank. Even if they don't completely buy the separatist rhetoric of the parties they voted for, they're hoping for some kind of change.
They will not get it.
There is no getting around how big Germany is within Europe. Its economic power, a product of how well it has run its economy, gave it bargaining power during five years of European summits. The sheer size of its population continues to give it the weight of numbers within the European Parliament. While Greece, France, and even the U.K. can throw tantrums, a consistent, solid performance from Germany's two major parties—both EU-friendly—can still round out the numbers.
Notwithstanding their increased presence in the European Parliament after this weekend's election, the protest parties are still heavily outnumbered by center-right and center-left parties. "Paradoxically, you may see the parliament begin to vote even more strongly in favor of Europe," Persson says, because the mainstream parties "will have a stronger incentive to form a grand coalition, to freeze out" the newcomers.
"Europe has disappointed," said French Prime Minister Manuel Valls in a televised address after the elections. While true, the comments were unspecific and unhelpful. What has disappointed—with low growth and high employment—is a set of policies that Germany has consistently asked for and consistently been able to get. This weekend's vote, while unpleasant for politicians who lost their jobs, did not produce a broad or coherent European opposition that could change those policies.
America's Tea Party changed the Republican Party and, consequently, the U.S. Europe's Tea Parties don't even seem to like each other.
Before it's here, it's on the Bloomberg Terminal.
LEARN MORE