The Keystone XL Pipeline Gets Some Canadian Competition
Delays on the KXL force pipeline companies to find alternatives
By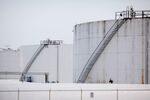 When TransCanada first proposed the Keystone XL pipeline in 2008, the company hoped it would be done by 2012 and begin carrying heavy crude from the Alberta oil sands in Western Canada down to the U.S. Gulf Coast. Six years later the pipeline remains in limbo, stymied by Department of State reviews, route adjustments, lawsuits, environmental and economic studies, and (most important) an Obama administration that appears truly divided on the issue. Last month the State Department announced that no decision would come until after November's midterm elections.
Environmentalists hailed the latest delay as "a huge victory" in their effort to keep the pipeline from getting built, and therefore the heavy oil from getting produced. But even if Keystone XL (KXL) never happens, that doesn't mean Canada's oil sands will stay in the ground. While Canadian officials remain "hopeful" that KXL will ultimately get approved, they're not banking on it. While KXL languishes, pipeline companies are scrambling to get approval for a handful of other projects that would move vast amounts of Alberta's heavy oil east and west, but not south.
Canadian regulators are currently considering four major pipeline projects: Two of them would move the crude to the west coast of Canada, where it would have easy access to Asian markets; the other two propose piping oil all the way east across southern Canada to refiners in Ontario and Quebec, which are stuck taking more expensive imported oil.
Together these projects dwarf KXL, both in price and in how much oil they could move. If approved, the $5.4 billion KXL would have a capacity of about 800,000 barrels a day. The four pipelines under consideration carry a collective price tag of about $25 billion and could move almost 3 million barrels of crude per day. So is Keystone in danger of becoming irrelevant?
"The market is definitely moving on with or without it," says Meredith Annex, an oil and gas analyst with Bloomberg New Energy Finance (BNEF). "The demand for the heavy oil from Alberta will still be there even if Keystone XL doesn't ultimately get built." It's just that instead of going to U.S. refiners on the Gulf Coast, the oil will go to such places as China and Eastern Canada.
One of the pipelines has already been approved. In March, Canada's National Energy Board granted Enbridge's request to reverse the flow of a pipeline called Line 9. The 400-mile pipeline was first built in 1975 and has been reversed twice before. It currently moves imported crude west from Canada's east coast. For about $400 million the pipeline will be reversed before the end of 2014 and begin moving about 300,000 barrels per day of Western Canadian oil into refineries in the east.

By far the biggest of these projects is TransCanada's $11 billion Energy East pipeline. If approved, it would be North America's largest—and longest—pumping 1.1 million barrels per day from Alberta 2,700 miles east to refiners in Québec City and Saint John. The project involves converting a natural gas pipeline into an oil pipeline.

At a conference in Toronto this month, TransCanada Chief Executive Officer Russ Girling said the company has learned lessons from KXL, and he was already engaging with local landowners and politicians in an effort to get ahead of environmental protesters. "We went out there really early, before we drew a line on the map," Girling said. TransCanada plans to submit its official application for Energy East next month and hopes to get approval by mid-2015. If approved, the pipeline would be finished by 2017. Opposition to Energy East is mounting, with more than 40,000 Canadians having signed petitions against it.
The other two projects involve eventually shipping heavy oil sands west to China. Kinder Morgan's TransMountain project would cost about $5.4 billion and move roughly 890,000 barrels per day. Enbridge's Northern Gateway project would cost about $7.9 billion and move roughly 525,000 barrels a day.

Both projects face strong opposition from environmentalists and from tribes whose lands the pipelines would cross. Although the proposed pipelines are much shorter than the ones heading east, "they are both pretty problematic due to the political situation," says Eric Lee, an oil analyst at Citigroup.
Still, the Canadian government seems keen for both of the projects to go ahead. After more than three years of winding through the regulatory approval process, Northern Gateway was recommended for approval by a joint review committee late last year. TransMountain is in the midst of what is shaping up to be a much faster regulatory review.
After investing billions of dollars into Alberta's oil sands through its state-run oil companies, China would likely be among the biggest beneficiaries of these new pipelines, which would carry crude to the western coast, where it would be loaded onto ships bound for Asia. "China is certainly the target market for those projects," says BNEF's Annex. "Their refineries are set up to handle the heavier stuff."
BOTTOM LINE -
The bottom line: With the Keystone XL pipeline proposal stalled in the U.S., the Canadians may settle on an all-Canada oil-transport strategy.
Before it's here, it's on the Bloomberg Terminal.
LEARN MORE