pursuits
Popeyes Plays Hard to Get With Chicken Waffle Tenders
By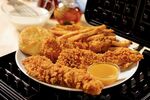 This week Chicken Waffle Tenders return to Popeyes Louisiana Kitchen for a reprise of its August debut, which the chain said was its most successful limited-time offer ever. In addition to ending a nine-month drought for fans of waffle-battered chicken strips, the comeback sheds light on the popular fast-food restaurant's limited-time-offer strategy.
Popeyes launches up to nine "LTOs" each year, each for three to four weeks. Unless an item proves unpopular, it is brought back at least three times, starting eight to 18 months after the introduction. These are not tests: It's rare for any limited-time-offer items to make it to the permanent menu.
The goal is to increase restaurant traffic and sales, says Richard Lynch, Popeyes chief brand officer. That's a challenging strategy because most people go to fast-food joints to eat something familiar, not to try something transient and new. In a survey of 13,000 consumers by NPD Group, only 3 percent said they had recently tried a limited-time offer at a fast-food restaurant.

Nonetheless, the chain seems satisfied with the results of this menu-and-marketing strategy; same store sales have increased for the last 15 quarters. Popeyes blames the weather for a slowdown in the fourth quarter of 2013 and early this year, and it expects  2 percent to 3 percent comparable-store sales growth in 2014.
Popeyes does add items to its permanent menu, typically one carefully selected addition each year, Lynch says. Unlike LTOs, which are often designed with novelty in mind, these items are meant to have universal, everyday appeal. In February, Popeyes added two new chicken tender flavors: spicy and blackened. Based on its formula, the chain has probably satisfied its chicken-tenders innovation needs for the year. Waffle-flavored tenders may not be more than a passing fad.
Before it's here, it's on the Bloomberg Terminal.
LEARN MORE