Olympus Seeks New Markets for Cameras Amid Losses at Unit
Kanoko Matsuyama and Takashi Amano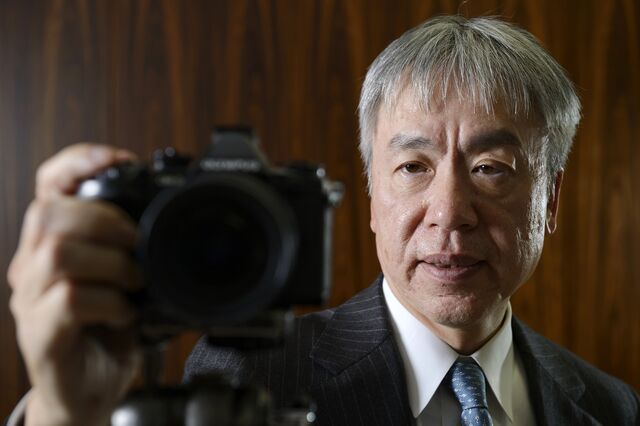 Olympus Corp., which started as a microscope maker before selling its first camera in 1936, forecast a fifth annual loss for the camera business and said it is looking for new applications such as sensors used in cars.
The Tokyo-based company will spend about 3.5 billion yen ($34 million) developing non-consumer markets like automakers for its cameras, Chief Executive Officer Hiroyuki Sasa said in an interview in Tokyo on May 27. The camera unit will return to profit in the 12 months ending March 2016, he said, a year later than he had forecast.
Olympus relied on medical equipment including endoscopes for 69 percent of revenue last year and is looking beyond the consumer market for its cameras as demand for sensors and other camera-related devices used in cars gains. Global sales of automobile cockpit electronics and related services may reach $80 billion by 2020, according to Visteon Corp., spurred by infotainment systems, Apple Inc.'s CarPlay and U.S. regulations mandating back-up cameras.
"If we don't prepare from now, we could get a bigger hit and report wider loss than now," Sasa said, referring to the camera unit. "We have such a sense of crisis."
Olympus fell 0.9 percent to 3,220 yen as of 10:44 a.m. in Tokyo trading. The shares, which doubled in 2013, have dropped 3.3 percent this year, compared with an 8.1 percent decline in the benchmark Topix index.
Earnings Forecasts
The company's operating income will probably rise 20 percent to 88 billion yen for the year ending March 31, Olympus said May 9. Net income will more than triple to 45 billion yen for the year ending March because of growth in its medical unit and reduced losses in the camera business. Sales will rise 6.5 percent to 760 billion yen for the period, it said.
The camera unit will probably have operating profit of 5 billion yen in the 12 months starting April 2015, after a loss of 3.5 billion yen expected in the current fiscal year, Sasa said. The executive had forecast in December that the unit would return to profit this fiscal year.
Excluding the investment in new markets, the camera unit would break even this fiscal year, after reporting an operating loss of 9.2 billion yen in the year ended March, Sasa said.
Olympus targets to sell 630,000 units of mirrorless cameras this year, 24 percent higher than the previous 12-month period. Sales of compact cameras are expected to plunge to 1 million units this year from 2.71 million units a year earlier, the company said.
Olympus posted a loss of 49 billion yen in the 12 months ended March 2012 after a 13-year accounting fraud was uncovered. The company was sued by six banks for a total of 27.9 billion yen in damages, the largest amount among civil lawsuits filed against Olympus over the irregularities, it said April 9.
Before it's here, it's on the Bloomberg Terminal.
LEARN MORE