Nomura Faces Third Year Without M&A Crown
Takahiko Hyuga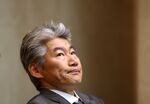 Nomura Holdings Inc., trying to regain its lost dominance in advising on Japanese mergers and acquisitions, is facing tough competition from bigger rivals and some bad luck.
Nomura's largest M&A assignment of the year suddenly became the biggest takeover canceled in Japan this decade when Yahoo Japan Corp. decided this month to scrap its $3.2 billion purchase of eAccess Ltd. from SoftBank Corp. That pushed Nomura, which advised SoftBank, to fifth place among Japan M&A advisers from fourth, data compiled by Bloomberg show.
Japan's biggest securities firm hasn't held the top spot since 2011, missing out on the largest takeovers to banks including Mitsubishi UFJ Financial Group Inc., Morgan Stanley and Goldman Sachs Group Inc. Nomura plans to hire U.S. bankers to bolster its overseas capabilities and recoup its share of the advisory market, an area that builds ties to companies and can lead to business such as stock and bond underwriting.
"Japanese lenders and foreign banks will continue to dominate domestic brokerages, and Nomura can't just sit still," said Koji Hirai, head of M&A advisory firm Kachitas Corp. in Tokyo. "Nomura faces pressure to form a joint venture or a flexible alliance with banks overseas, or hire highly capable bankers."
Mitsubishi UFJ Morgan Stanley Securities Co., formed in 2010 by Japan's biggest bank and the Wall Street firm, worked with Yahoo Japan and remains the No. 1 mergers adviser in the Asian nation, according to the data.
Nomura's shares slumped as much as 1.3 percent today before trading unchanged at 677 yen as of 9:45 a.m. Tokyo time. The stock sank 16 percent this year, compared with the benchmark Topix Index's 8.1 percent drop.
'Samurai' Bankers
The firm held an advantage in Japan's M&A advisory business when it had "samurai" bankers who could influence company executives and create deals from scratch, according to Hirai. Now, Japanese clients seeking advice on takeovers abroad are either turning to commercial banks that can quickly provide finance for the largest transactions, or to global firms that have contacts with potential targets overseas.
"Purchasing a company is getting more competitive, and speed is crucial," said Nobuyuki Fujimoto, senior market analyst at SBI Securities Co., Japan's largest online brokerage. "It's faster for Japanese acquirers to get a bridge loan from lenders and turn to a U.S. bank to ask about a U.S. target than it is to tap Nomura."
Corporate Ties
Goldman Sachs advised 210-year-old Japanese food maker Mizkan Group on its $2.15 billion purchase this month of Unilever's Ragu and Bertolli pasta sauce business. The deal, announced on May 22, is the second biggest involving a Japanese company this year.
M&A rankings are a useful barometer of how close a firm is to its corporate clients, said Shinichi Ina, an analyst at UBS AG in Tokyo. Winning mergers enables an investment bank to forge strong ties with a company and become familiar with its strategy, giving the firm the inside running on future business such as arranging fundraising, he said.
"Even though the fees for advisory roles are small, some other assignments like financing may come along in the future," Ina said.
Nomura's M&A and financial advisory fee income fell 2.3 percent to 25 billion yen ($245 million) in the year ended March, figures from the Tokyo-based company show. That accounted for 27 percent of investment-banking fees, which also include equity and bond underwriting, and 1.4 percent of total revenue.
Biggest Termination
The Japanese firm remains the leading manager of the country's stock sales, and is the No. 3 arranger of debt issuances this year after topping those rankings in 2013, according to data compiled by Bloomberg.
Yahoo Japan said on March 27 that it agreed with SoftBank to purchase the mobile carrier's eAccess stake. The companies canceled the deal on May 19, with Yahoo Japan saying it could cooperate with eAccess while developing operations separately.
A total of 325 takeovers involving Japanese companies have been scrapped in the past 10 years, and the Yahoo Japan transaction was the biggest among those that had agreed to merge, the data show.
Nomura, whose global M&A business is led by Shinsuke Tsunoda, wasn't involved in the largest deals in Japan in each of the past four years -- the latest being Suntory Holdings Ltd.'s $15.9 billion acquisition of U.S. distiller Beam Inc.
The others were Sumitomo Metal Industries Ltd.'s merger with Nippon Steel Corp. in 2011, SoftBank's acquisition of Sprint Corp. in 2012 and Tokyo Electron Ltd.'s merger with Applied Materials Inc. in 2013, the data show.
Lost Dealmakers
"We will continue to support our clients by leveraging our strength as an independent investment bank," Tsunoda, 47, said in an e-mailed response to questions. "Over the past year we have focused on further developing our cross-border business. We are positive on the outlook as we are receiving more inquiries from clients."
Companies no longer see that it's essential to tap Nomura for big or complicated mergers now that its peers have accumulated skills and experience, said Kachitas's Hirai. The firm lost "powerful" dealmakers over the years, he said.
"My impression is that they now focus more on execution than origination," said Hirai, a former head of M&A at a brokerage unit of Mitsubishi UFJ.
Mitsubishi UFJ Morgan Stanley is benefiting from its power to provide credit and tap a global network for cross-border transactions, the company's investment-banking chief Haruo Nakamura said in an interview in November.
Hire Bankers
The joint venture, which was also No. 1 adviser in Japan last year, worked with Suntory on its Beam takeover. The Osaka-based beverage maker said in January it will borrow money from Mitsubishi UFJ's lending unit for the acquisition. It plans to refinance 800 billion yen of bridge loans this year, Suntory President Nobutada Saji said on May 15.
Nomura was Japan's top M&A adviser from 2008 to 2011, data compiled by Bloomberg show. To recover lost market share, it plans to hire about 20 bankers in the U.S., global investment banking head Kentaro Okuda said in an interview in December. It will seek people to work on leveraged finance and building relationships with private-equity firms, he said.
About 50 Nomura bankers and regional heads from around the world met in Tokyo in December to discuss how to boost advisory business at home and abroad.
M&A Opportunities
The hiring plans mark a shift by Chief Executive Officer Koji Nagai, 55, toward expanding abroad. Nagai, who took the post in August 2012, spent the first year of his tenure cutting $1 billion in costs that swelled following his predecessor's 2008 purchase of bankrupt Lehman Brothers Holdings Inc.'s European and Asian operations.
Nomura will have more opportunities to reverse the M&A trend as inbound deals pick up, SBI's Fujimoto said. A weaker yen will make it more affordable for foreign companies to acquire Japanese firms, he said. The currency has fallen 16 percent against the dollar in the 17 months since Shinzo Abe became prime minister after pledging to end deflation.
Japanese companies will continue to look overseas for targets as the local market shrinks, balance sheets improve and financing remains cheap, said Naoki Fujiwara, chief fund manager at Shinkin Asset Management Co. That goes for brokerages, too, he said.
"The Japanese securities industry itself may see a restructuring at some point through an overseas acquisition or capital alliance," Fujiwara said. "Business is becoming global."
Before it's here, it's on the Bloomberg Terminal.
LEARN MORE