JBS Blindsides Bondholders in $5.6 Billion Hillshire Bid
Julia Leite and Gerson Freitas Jr.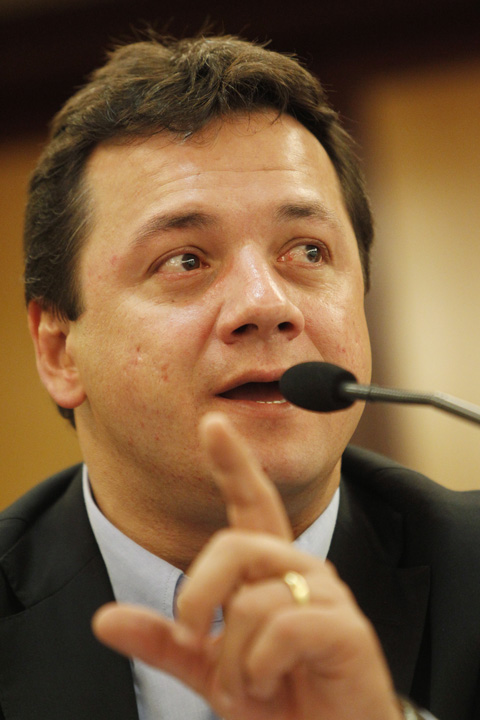 JBS SA's decision to renege on its debt-cutting pledge is costing the world's largest meat producer in the bond market.
Sao Paulo-based JBS's $1 billion of notes due 2020 posted their biggest drop in four months yesterday after the company's Pilgrim's Pride Corp. unit made an unsolicited $5.6 billion bid for Hillshire Brands Co. Yields on the bonds, which fell to a record 6.27 percent this month, jumped to 6.38 percent.
The purchase, which would be JBS's biggest since 2009, threatens to boost debt levels to a four-year high and reverse a drop in leverage that reduced borrowing costs. The announcement comes less than two weeks after Chief Executive Officer Wesley Batista said he was "growing more confident" that JBS, which has spent $17 billion on acquisitions over the past decade, would reduce debt to the lowest level since 2008.
"They've always been acquiring assets," Omar Zeolla, a corporate credit analyst at Oppenheimer & Co., said in a telephone interview from New York. "That's the way they operate. This is going to increase JBS's leverage at a time the company has been talking about reducing leverage."
JBS's bonds fell 0.48 cent to 107.09 cents, the biggest one-day decline since Jan. 24, data compiled by Bloomberg show. Emerging-market corporate debt that shares JBS's BB rating yields 5.67 percent, according to Credit Suisse Group AG.
The notes touched 107.73 cents on the dollar May 15, the highest since they were issued in October.
Seara Acquisition
While JBS said in a presentation yesterday that net debt to earnings before interest, taxes, depreciation and amortization will climb to 4.1 times, Votorantim Corretora predicts the deal will push it to 4.7 times, which would be the highest since the second quarter of 2010.
The company had reduced the multiple to 3.4 times at the end of the first quarter from 4.1 times following its 5.85 billion real ($2.6 billion) purchase of Marfrig Global Foods SA's Seara food-processing assets in Brazil, announced last June.
Increased cash flow and cost cutting in areas including packaging and ingredients and consolidation of distribution from Pilgrim's and Hillshire will allow JBS to cut its leverage ratio to 3.25 times by the end of 2015, the company said in a presentation yesterday.
"This transaction is aligned with JBS's global strategy of moving up to branded and added value products, all of which have higher Ebitda margin," Batista said during a call with investors yesterday.
Pinnacle Foods
JBS declined to comment further when contacted by Bloomberg News.
Should the transaction go through, JBS's leverage would exceed the normal parameters for BB- ratings for about 12 months before the ratio dropped back in line with peers, Fitch Ratings said today in a research note. The ratings company called the bid neutral for JBS's credit profile.
Pilgrim's expects $12 billion in combined revenue and $1.4 billion in Ebitda, according to the presentation. Fabio Sandri, the company's chief financial officer, said on a conference call yesterday that Pilgrim's doesn't foresee "any need" for loans from JBS to complete the acquisition.
"Leverage doesn't seem to be a concern because there's an immediate Ebitda-generation increase," Catarina Pedrosa, an analyst at Espirito Santo Investment Bank, said in a telephone interview from Sao Paulo.
Bond Sale
JBS's U.S. unit, JBS USA, plans to sell $750 million in senior notes tomorrow, according to a person familiar with the matter, who asked not to be identified because they're not authorized to speak about it.
The deal with Hillshire, which makes Jimmy Dean sausages and Ball Park hot dogs, would close in the third quarter and be financed with a combination of new debt and existing cash, Pilgrim's said in a statement yesterday. The deal is contingent on Hillshire's terminating its $4.3 billion agreement to acquire Pinnacle Foods Inc.
"They've been very aggressive," Carlos Gribel, vice president for emerging markets at INTL FCStone Securities, said in a telephone interview from Miami. "The market paused. No one likes to see leverage going above 4 times."
Before it's here, it's on the Bloomberg Terminal.
LEARN MORE