Chinese Blogger Says He Was Fired From Tencent After Meeting John Kerry
Christina Larson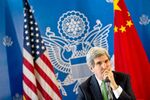 Zhang Jialong, a prolific 26-year-old Chinese blogger, has never stayed away from controversial topics. When he graduated from college in 2010, he got a job in Beijing reporting for the independent financial news magazine Caijing, covering such stories as the tragic death of infants from melamine-tainted milk formula and the forced demolition of Ai Weiwei's Shanghai studio.
Later he took a position at Tencent,, writing commentary and financial reviews for the Shenzhen-based Internet company's popular QQ messaging service. A popular voice on the Chinese Internet, Zhang become known for his criticism of arbitrary authority and his defense of free speech.
Zhang's writing drew the attention of U.S. embassy officials in Beijing. In February, Zhang was invited to be one of four Chinese writers to meet with Secretary of State John Kerry during his recent China trip.
At the 40-minute meeting on Feb. 15, Zhang expressed his frustration with China's Internet controls and his concern about people being imprisoned for speaking their minds, including Nobel Peace Prize-winning author and activist Liu Xiaobo. "Will you get together with the Chinese who aspire for freedom" he asked Kerry, according to a New York Times report, and help "tear down this great firewall that blocks the Internet?"
Shortly afterward, searches for his name were blocked on the microblogging service Tencent Weibo. Propaganda organs allegedly ordered state media to withdraw articles about Kerry's meeting with Chinese bloggers to discuss Internet freedom.
Zhang then wrote a Feb. 19 article for ForeignPolicy.com called "Everything I Wish I'd Told John Kerry," which asserted: "The existence of China's Great Firewall is an embarrassment not just to China but to the human race, and an open challenge to public justice and the public consciousness."
Zhang, who had previously been questioned by Chinese public security authorities,  began to feel the heat from his employer, according to a May 23 essay recounting the events on his personal blog. A representative from Tencent did not respond to a request for comment.
On Feb. 17, Zhang said, his boss told him that articles could no longer be published under his own name, which has become a sensitive search term on Tencent Weibo. On May 20, Zhang was suspended from his duties at Tencent and told that his bosses would be meeting with propaganda officials to discuss his status. Three days later, he was fired.
Without hearing all sides of the story, it's impossible to know whether additional factors were involved in Zhang's dismissal. His posted reflection on the situation seems apt: "A dictatorship regards anyone who challenges it to be an enemy, and I was no exception," he wrote. "I always knew this would happen."
Before it's here, it's on the Bloomberg Terminal.
LEARN MORE