Bond Market Vigilantes Are Very, Very Quiet
by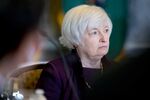 The bond market punishes any government that lets inflation get out of control by driving up the country's interest rates and raising its borrowing costs. Strengthening economic growth makes the bond vigilantes nervous because a robust economy tends to inflate. Lately, the U.S. bond market has been preternaturally calm. Traders in the market, whose livelihood is based on their ability to detect which way interest rates are heading, predict that rates are not headed much higher.
In fact, Bloomberg News reports, there is "deepening concern among bond investors that tepid wage growth and a lack of inflation will persist for years to come." The story quotes Margaret Kerins, the Chicago-based head of fixed-income strategy at Bank of Montreal: "Potential growth is a huge determinant of that long-term rate and most people are buying into the idea of lower potential growth."
This is good news and bad news. It's good news in that it keeps the federal government's borrowing costs low and indicates that inflation isn't likely to start eroding workers' paychecks anytime soon. It's bad news in that if the vigilantes are right, long-term unemployment will remain a stubborn problem.
I spoke on Tuesday with David Robin, a New York-based interest rate strategist for Newedge, a derivatives broker owned by Société Générale. He thinks the federal funds rate—the overnight interbank lending rate that the Fed controls—may not ever get higher than 2 percent or 2.5 percent in this business cycle. Federal Reserve Chairman Janet Yellen will keep monetary policy easy to encourage growth and job creation, predicts Robin.
Rates are low because the market thinks Yellen is dovish enough to keep a lid on interest rates, but not so dovish that she will allow inflation to break out, Robin says.
The market is acting as if the Federal Reserve's own policymakers are too high in their forecast of rising rates. According to projections released on March 19, members of the Federal Open Market Committee had a median forecast for the federal funds rate of 1 percent for the end of 2015 and 2.25 percent for the end of 2016. But according to data compiled by Bloomberg, traders in the futures market don't see the rate edging above 1 percent until May 2016. In the more actively traded Eurodollar futures market, 90-day borrowing costs aren't expected to go above 1 percent until March 2016 or above 2 percent until March 2017. (Those rates run a bit higher than the federal funds rate.)
Fed policymakers disagree among themselves about where rates are headed. The "dot plot" of rate forecasts that the Fed released in March doesn't have names attached to the dots, but strategists believe that Yellen and New York Fed President William Dudley are probably among those with lower dots—i.e., rate forecasts. In a May 20 speech, Dudley said that historically, if inflation was running at the Fed's new target rate of 2 percent, the federal funds rate would be about 4.25 percent. But because of scarring from the 2007-09 recession, aging of the workforce, and tougher bank regulation, he said he expects that this time around, the stable federal funds rate in a time of 2 percent inflation would be "well below" 4.25 percent. "Precisely how much lower is difficult to say at this point in time," Dudley told the New York Association for Business Economics.
Before it's here, it's on the Bloomberg Terminal.
LEARN MORE