Boeing's Freer Bird: 787 Gets a License for Longer Flights
By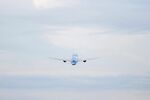 The long-troubled Boeing 787 Dreamliner got some good news Wednesday with the federal certification for longer flights over water.
The Federal Aviation Administration's extended operations (ETOPs) certificate means that airlines can fly the 787 as far as 5½ hours from an airport, instead of the previous three-hour certification. That will permit new routings, such as a nonstop flight from Los Angeles to Melbourne that United plans to begin in October.
It also means that newer, longer-range version of the 787, called the 787-9, can fly polar routes such as those used for flights between the U.S. and top business destinations such as Hong Kong, Singapore, Beijing, and Shanghai. Those routes across the North Pole require the extended operations certification because safe diversion airports in case of an emergency are few and far between.
To date, most 787 flights by such North American carriers as United, Aeromexico, and Air Canada are on North Pacific routes to Japan and China. Current 787 flights between North America and Europe and Africa are generally routed not too far from Greenland and Iceland.
The 787 was introduced into commercial service in 2011 after several years of delays. It quickly ran into trouble when its lithium-ion battery packs were found to overheat and potentially burn, leading the FAA to ground the plane for three months last year while Boeing redesigned the battery system.
The FAA's ETOPs certification dates to 1985, when airlines began ordering longer-range aircraft and jet engine reliability improved dramatically.
Before it's here, it's on the Bloomberg Terminal.
LEARN MORE