Apple Buys Beats and Its Founders for $3 Billion
By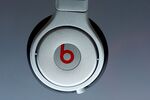 Apple just made it official. After a month of rumors, it is acquiring headphone maker Beats Electronics and the Beats Music subscription service for $3 billion. Beats co-founders Jimmy Iovine, a longtime music and movie producer, and Dr. Dre, a producer, entrepreneur, and rap artist, will join the company that pioneered digital music with the iPod and iTunes, reporting to Apple's Eddy Cue.
The deal apparently overcame some last-minute discussion over valuation and a poorly considered video by Dre, gloating about his enhanced net worth—which likely would have sunk the deal under Apple's previous boss, Steve Jobs.
"Music is such an important part of all of our lives and holds a special place within our hearts at Apple," said Tim Cook, Apple's chief executive, in a statement. "That's why we have kept investing in music and are bringing together these extraordinary teams so we can continue to create the most innovative music products and services in the world."
Beat makes a popular set of headphones, emblazoned with its recognizable "B" logo, in addition to speakers and a fledgling music subscription service called Beats Music, with an estimated 110,000 to 200,000 members. Bloomberg News recently reported that Apple became interested in buying Beats after executives were impressed with the service, which was successfully converting free users into paying subscribers.
Apple's stock was relatively flat in after-hours trading on Wednesday evening.
"I've always known in my heart that Beats belonged with Apple," Iovine said in a statement. "The idea when we started the company was inspired by Apple's unmatched ability to marry culture and technology. Apple's deep commitment to music fans, artists, songwriters, and the music industry is something special."
In a joint interview with Iovine at the Code Conference south of Los Angeles on Wednesday night, Eddy Cue said the deal brings accomplished music executives into Apple and adds to its portfolio of  services "the first music subscription done the right." Though commentators on Twitter seemed more entranced by a few buttons left fashionably unbuttoned on Cue's shirt, the Apple executive endeavored to frame the union of one full of future opportunity.
"It's not important what Beats did before, it's what Beats and Apple can do together," he said.
Before it's here, it's on the Bloomberg Terminal.
LEARN MORE