With a Croissant Burger, Starbucks and La Boulange Test the Dinner Crowd
By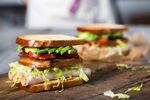 No restaurant chain wants to miss out on the current fast-casual craze, it seems. Consumers continue to fork over a premium for food and décor that's a step up from a local drive-through but not measurably slower. Yum! has been testing upscale versions in the KFC and Taco Bell families. Now, Starbucks is launching a continental diner.
The company, which acquired San Francisco chain La Boulange Bakery in 2012, will on June 12 open a restaurant in Los Angeles called La Boulange. Unlike its bakeries (and competitor, Le Pain Quotidien), which close by about 7 p.m., the La Boulange restaurant will serve dinner until 10 p.m. The menu starts with the  bakery's menu of sandwiches, salads, and omelets and adds such later-in-the-day options as croissant burgers, cocktails, beer, and wine.
It's easy to see why Starbucks wants to enter the dinner market. After sundown, the cafe chain largely loses to competitors such as Panera, which racks up 22 percent of its sales at dinner. Starbucks has already announced an "Evenings" menu at its cafes–and will no doubt try to apply any lessons to its new restaurant.
Starbucks has also been tweaking its food offerings in response to customer complaints about the baked goods from La Boulange, which have drawn mixed reviews—while replacing customer favorites such as iced lemon loaf cake. In April, Starbucks acknowledged the grumbling and brought back loaf cakes. Opinions of La Boulange's several Bay Area locations are better, and Pascal Rigo, founder of La Boulange, said he expects breakfast, lunch, and weekend brunch to be mainstays at the new restaurant. No one has vouched for the croissant burger yet.
Before it's here, it's on the Bloomberg Terminal.
LEARN MORE