When Execs Fall Short, Staples Still Pays Performance Bonuses
By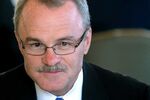 The office-supply business never recovered from the shredding wrought by online shopping. But in a long-running environment of store closures and profit margin declines, how do you keep top executives from fleeing for greener pastures?
Last year's woeful financial performance at Staples meant that, by the metrics in place, no one would get an annual bonus. But since that would be bad for morale, the board decided to revise its executive compensation package and grant payments equal to 16 percent of last year's target for cash bonuses.
The plan, adopted in March, amounted to a $300,000 payment to Chairman and Chief Executive Ronald Sargent, who saw his total compensation jump 40 percent to almost $10.8 million. Demos Parneros, the president of North American stores and online, got an $89,000 bonus, as did Vice Chairman Joseph Doody. Both men had total compensation of about $3.2 million, while Christine Komola, the chief financial officer, collected about $2.2 million thanks to a cash bonus just over $49,000. Among Staples's compensation committee board members is Carol Meyrowitz, the CEO of TJX Cos., the parent of retailers Marshalls and T.J.Maxx. The Associated Press reported today that Meyrowitz was the highest-paid female CEO in America last year, at $20.7 million.
The old compensation metrics "no longer represented the company's priorities due to the strategic reinvention plan," Staples said in its proxy statement. That plan involves closing at least 250 stores, matching rivals' prices, changing the product mix to diversify outside of office supplies, and moving a large part of the business from retail stores to online. Office Depot, which merged with rival OfficeMax last fall, is closing at least 400 stores by 2017 as the industry focuses on reducing its real estate footprint around a smaller customer base. Staples shares are down more than 28 percent this year.
Shareholders are being asked to vote on the pay scheme on June 2 in the form of the traditional nonbinding proposal, which means that Staples may still award the monies regardless of how investors vote. Proxy advisory firm Institutional Shareholder Services has recommended a vote against the proposal, saying the board added an "extra award cycle" given the low awards produced by the financial underperformance and was not disclosing its goals with the new pay plan.
In a regulatory filing last week, Staples replied that ISS's characterization of the cash award was misleading and said the payments came "in recognition of the significant additional workload of associates during the implementation of our new strategy." But it had also been a long time since the last bonus: "The award addressed the need to retain key talent and continue to motivate associates in light of the fact that we had not paid a bonus to our associates in two years." A Staples spokesman declined to comment on how much in bonuses the company paid or how many employees were eligible to receive them.
Is Staples's board foolishly absolving its executives of any role in the dramatic changes that have befallen their industry and overlooking a weak management performance? Or are directors responding logically to a basic problem: how to pay people who have much more difficult jobs as the industry reshapes itself? Those are questions Staples shareholders will need to address. But one of the real compensation problems in corporate America—which Staples's board has so forcefully shown—is that performance-based pay measures never seem to be truly imperiled when hard times hit a company or its industry. Directors will just "reinvent" the metrics so executives can get paid.