A Sneak Peek at Volvo's New SUV
by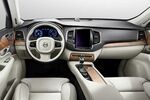 Volvo Cars on Tuesday released several interior photos of the much-anticipated SUV it plans to unveil in full in a few months. The images all show the elements of a luxury stunner: giant tablet in the dashboard that would make Steve Jobs proud, a crystal glass gear knob, and enough beautiful blond wood to trim a summer cabin in the countryside. The most telling detail is also the smallest: a tiny Swedish flag stitched onto the side of the buttery leather seat-covers.

Volvo may be owned by a Chinese conglomerate (Zhejiang Geely Holding), having moved on from its rocky marriage with Ford, but it is still Scandinavian to its core. At least that's what Volvo wants buyers to believe as it tries to burnish its reputation as a top-shelf luxury brand.
While Volvo sales in Sweden have held steady, U.S. sales have swooned, starting shortly after Ford bought the brand in 2000. Over the past few years, only new buyers in China have kept the company on track.

At a soiree during the Detroit car show in January, the company, true to its Swedish roots, served smoked salmon. "We're more Swedish than ever," Volvo CEO Hakan Samuelsson said at a lunch in Manhattan a few months ago, emphasizing the carmaker's tradition of safety and stellar design.
In addition to its hometown factory, Volvo also cranks out cars in Belgium and China, but the XC90 on display early in the day Tuesday is the first Volvo designed and produced entirely in-house in more than a decade. Most notably, it won't have an engine—or anything else—from Ford, which started swapping out Volvo parts shortly after it bought the company.

According to Samuelsson and his team, Geely, which bought Volvo in 2010, wants the brand to be what it once was, not a vehicle for executives bent on engineering global synergies. To that end, Volvo hopes to deliver an exceedingly refined, safe, and expensive class of cars in the 2015 model year.
The Volvo team has treated the introduction of its new model like a protracted strip-tease. In addition to all the big talk about resurrecting the proud brand, the company has been rolling out some impressive "concept" vehicles as a kind of preview of what's in store for its production models.
At the Detroit car show, it pulled the cover off an "XC Coupe", a low-slung, wide-hipped swipe of metal that the Volvo team stocked with a set of skis and a Space Age roof rack. It looked like no other machine in the Audi and BMW booths nearby.

Now we finally got some coy little peeks of the real thing—an ankle here, a neckline there. There will be more undressing in early July when Volvo will show off the powertrain, the tech toys, and the, ahem, chassis. A few weeks later, Volvo plans to strut the XC90′s safety stuff. Come August, it'll go the full monty.
Time will tell if the new Volvo can win back well-heeled drivers who have flocked to German brands of late. If the latest preview is any indication, it will certainly be handsome. Swedish genes, apparently, die hard.
Before it's here, it's on the Bloomberg Terminal.
LEARN MORE