Arson Suspected in South Korea Nursing Home Fire That Killed 21
Sam Kim and Eunkyung Seo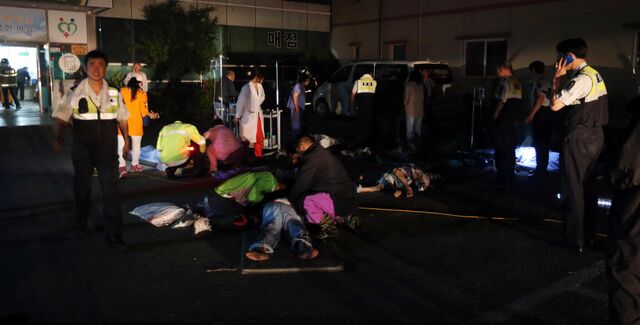 A patient suffering from dementia is suspected of setting the blaze that killed 21 people and injured eight at a South Korean nursing home, adding to concerns about public safety after a recent spate of fatal accidents.
An 81-year-old patient is under investigation, police officer Lee Soon Jae said by phone, citing closed-circuit television footage at the Hyosarang hospital for the elderly in Jangseong, about 280 kilometers (170 miles) south of Seoul. The fire broke out at 12:27 a.m. local time and was extinguished within 30 minutes, the Ministry of Security and Public Administration said on its website.
"The number of victims is large because the patients were sleeping and most of them have problems moving due to senile illnesses including Alzheimer's," Park Yong Gu, an official at the region's emergency services control center, said by phone. "We managed to prevent the fire from extending to the larger next-door building that holds 245 people."
The fire, the second deadly blaze in less than a week, comes after President Park Geun Hye pledged to overhaul South Korea's public safety mechanism following the Sewol ferry sinking that left more than 300 people dead or missing when it sank off the country's southwest coast on April 16. Park made a televised apology to the nation on May 19 over her government's handling of the disaster.
Subway Fire
In the capital Seoul, a subway train caught fire today in a separate suspected case of arson, according to police and fire officials. One person was slightly injured and 370 were evacuated, Cha Yang Oh, an official at the Gangnam fire station, told reporters in a televised briefing.
The two fires came less than a week after a blaze at a bus terminal building north of Seoul killed eight. In February, a snow-laden gymnasium roof collapsed at a South Korean resort, killing 10 people and injuring more than 100 at a welcoming party for college freshmen.
The accidents are fueling concerns about the government's ability to prevent disasters and manage them when they happen. Park's approval rating has fallen to 48 percent in the wake of the ferry sinking, according to the latest Gallup Korea poll, from 61 percent before the accident. Park faces her first electoral test since the Sewol disaster next week when South Korea holds metropolitan, provincial and municipal elections, including in Seoul.
Safety 'Lagging'
"South Korea is lagging in safety regulations and infrastructure despite its fast economic growth," Park Jae Sung, a professor of fire disaster control at Seoul's Soongsil Cyber University, said by phone. "Had more nurses been required to stay with the aged patients overnight to guide them out in the emergency, the death toll could have been lowered."
The hospital fire broke out on the second floor of an annex to the facility's main building, and the victims probably died from asphyxiation, the National Emergency Management Agency said in a statement. The hospital wasn't subject to regulations that requires the installation of water sprinklers, the Ministry of Health and Welfare said in an e-mailed statement.
The three-story Hyosarang hospital opened in 2007 with room for 400 patients, according to its website. Most of the victims were in their 70s and 80s, according to emergency services official Park.
Sewol Sinking
"We're very sorry that this accident happened," Lee Hyung Suk, a hospital official, told reporters, according to Yonhap News TV footage. The fire is believed to have broken out in a room used for storing equipment, he said.
The Sewol sinking was the nation's worst maritime disaster in more than four decades. Divers are still searching the submerged vessel for 16 missing after recovering 288 bodies, according to the government. Most of the victims were high school students on an excursion to a resort island.
Other public safety-related accidents in South Korea include the 1994 collapse of a bridge in Seoul that killed 32 people, and a 1999 fire that killed 19 kindergarten children at a youth camp. More than 500 people were killed when a shopping mall collapsed in Seoul in 1995, according to NEMA.
Before it's here, it's on the Bloomberg Terminal.
LEARN MORE