Dodgers Catcher Ellis Sprains Ankle While Celebrating No-Hitter
Erik Matuszewski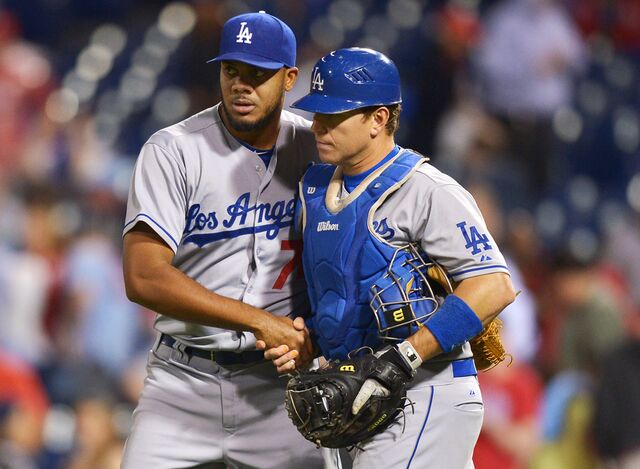 Los Angeles Dodgers catcher A.J. Ellis was placed on the disabled list after spraining his ankle two days ago during the team's on-field celebration following Josh Beckett's no-hitter.
Ellis, who didn't play in the game, jumped in the air as he approached his teammates celebrating in the infield and rolled his right ankle when he landed on a mask that catcher Drew Butera had thrown after the final out.
"I knew right away it was bad," Ellis was quoted as saying by the Dodgers' website.
Ellis said he had treatment on the return flight from Philadelphia and then called trainer Stan Conte yesterday to say he wouldn't be able to play for several days. The Dodgers placed Ellis on the 15-day disabled list and called up catcher Tim Federowicz from their Triple-A minor-league affiliate.
Ellis missed 34 games earlier this season after undergoing left knee surgery and the Dodgers at the time used both Federowicz and Miguel Olivo as replacements. The Dodgers last week released Olivo after he bit the ear of Triple-A teammate Alex Guerrero during a dugout fight.
Beckett's no-hitter was the 24th in franchise history and the first of the 2014 Major League Baseball season.
Beckett threw 128 pitches, walking three and striking out six in the Dodgers' 6-0 win over the Philadelphia Phillies to improve his record to 3-1. A year after having season-ending nerve surgery following an 0-5 start, Beckett became the first Dodgers' pitcher to throw a no-hitter since Hideo Nomo in 1996.
Beckett's no-hitter was the 11th for the franchise since moving to Los Angeles from Brooklyn in 1958.
Dodgers pitcher Hyun-Jin Ryu took a perfect game into the eighth inning of last night's 4-3 win against the Cincinnati Reds before giving up a leadoff double to Todd Frazier. No team in major-league history has had no-hitters in consecutive games.
Before it's here, it's on the Bloomberg Terminal.
LEARN MORE