China's Rich Keep Fit, Eat Well. And Hate Pollution
by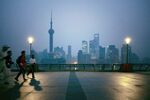 How do China's wealthiest citizens live? For the third year, Shanghai-based Hurun Report and the Industrial Bank have surveyed 1,019 Chinese millionaires to ask about their health, hobbies, and attitudes toward education and the environment.
According to the China Spiritual Investments White Paper 2014, released on May 27,  the number of millionaires (in U.S. dollar terms) grew by 100,000 last year, to 2.9 million. "Super-rich" Chinese—with at least 100 million yuan ($16 million)—grew by 2,500 to reach 67,000.
So how do China's well-heeled keep fit? By maintaining a healthy diet and exercising, with jogging the most popular sport, followed by badminton and swimming; on average, the rich spend three hours on physical activity a week.
Regular health checkups are also favored; 80 percent have a physical once a year, with 14 percent doing so every six months. All told, China's rich rate their level of "health satisfaction" at 79 points out of 100. (Their attitude towards the overall Chinese environment, not surprisingly, was less favorable, with 87 percent reporting dissatisfaction with pollution levels.)
Along with exercise, China's well-off say their favorite hobbies include fine dining and travel; over half of the respondents traveled abroad at least once last year. When asked what is most important, they cited travel, as well as health and education. Their most popular modes of learning are executive education programs and reading, with 10 hours a week pent on the latter activity. Overall, the average score reported regarding "spiritual satisfaction" was 75 points out of 100.
Beijing continues to be home to the largest number of Chinese millionaires, with 16.9 percent of the total. Guangdong province, next to Hong Kong, came in a close second (16.8 percent), followed by Shanghai (14.5 percent) and then the neighboring coastal provinces of Zhejiang and Jiangsu, (13.1 percent and 7.5 percent, respectively.)  Among the top 10 locales for millionaires, Sichuan was the sole inland province that registered, with 2.5 percent of the total.
Before it's here, it's on the Bloomberg Terminal.
LEARN MORE