A Call to Tear Down 10 Percent of Detroit's Buildings, Right Now
By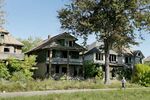 One of the question haunting Detroit, as it works to extricate itself from bankruptcy,  is how to address the reality of the city's shrinking population. Abandoned and blighted structures across the city are the residual reminders of the decade's long slide. Today, a much-anticipated report from the city's Blight Removal Task Force says that more than one in five structures is in some state of disrepair—and that about half of these should be torn down immediately.
The Task Force brought together city, nonprofit, and business representatives, including Dan Gilbert of Quicken Loans and Glenda Price, president of the Detroit Public Schools Foundation. Starting in November, the group surveyed each of the 380,000 parcels in the city and recorded the condition of the properties, using a mobile app. They found 84,641 structures and vacant lots that demand attention. About half—40,077 structures—should be torn down immediately, the group says, and the rest need further evaluation and attention. The survey data feeds into an interactive database that shows, for example, that in the Franklin Park neighborhood, 101 structures have fire damage, 390 need to be boarded up, and 919 appear to be unoccupied.

The group took the on-the-ground data and combined it with broader local stats—such as foreclosure activity and how many kids live locally—to identify areas in which immediate intervention could have the most impact. The "tipping point" areas include 22,700 structures that need attention.
It can take as little as three hours to demolish a house, but the process can be more consuming if properties contain asbestos or lead, thereby requiring extra care. Tearing down homes by the tens of thousands, which hasn't been done before, could cost about $800 million, the report says. While the city has already obtained some blight-reduction funding from federal and state sources, it still needs at least a further $400 million. (That doesn't include the additional $1 billion or so Detroit will need to address commercial and industrial eyesores.) The report offers 16 specific recommendations to address the funding gap, including forcing banks to pay $15,000 in exchange for having a blighted property taken off their hands.
The report's suggestions would require adoption by city, state, and federal officials. Much of the work would fall to the Detroit Land Bank Authority created in 2008. The DLBA, which takes ownership of properties to tear them down or set up alternate interventions, has recently added staff and been "energized," reported the Detroit Free Press. Still, the DLBA employs just 30 people, who have quite a task facing them.
Before it's here, it's on the Bloomberg Terminal.
LEARN MORE