Ramaphosa Said to Swap Banks for Burgers as He Takes Office
Franz Wild and Matthew Campbell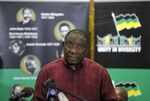 Cyril Ramaphosa, who took office yesterday as South Africa's deputy president, agreed to trade his interests in regulated businesses in exchange for stakes in consumer goods companies to avoid conflicts of interest, according to two people with knowledge of the matter.
Ramaphosa's stakes in companies including Standard Bank Group Ltd. and mobile-phone company MTN Group Ltd. and mines controlled by Lonmin Plc will be ceded to other shareholders of the Shanduka Group he founded in 2001, according to one of the people. They didn't want to be identified because the details of the arrangement weren't made public. He will be compensated with larger stakes in industries including consumer goods such as the local McDonald's Inc. franchise and a Coca-Cola Inc. bottling plant.
Shanduka's interests in the assets that he's disposing of will be combined with Pembani Group, the investment company founded by Phuthuma Nhleko, the man who built MTN into Africa's biggest mobile-phone operator, according to the people.
"The proposed transaction will enable Mr. Cyril Ramaphosa to exit his business interest in Shanduka to focus on his responsibilities in government and to ensure that his family's business interests do not conflict with his functions in government," Shanduka and Pembani said yesterday in an e-mailed statement, which did not detail how the arrangement will work. The combined company will have a gross asset value of more than 13.5 billion rand ($1.3 billion), the companies said.
Sworn In
Brunswick and FleishmanHillard, public relations firms representing the companies, said no one from Shanduka or Pembani would be available to comment.
Standard Bank, which has a 13 percent stake in Shanduka, and China Investment Corp., the country's sovereign wealth fund and a 26 percent shareholder, will have stakes in the new company. Ramaphosa's family trust holds 30 percent of Shanduka, which has stakes in 29 businesses.
The deal was announced on the day Ramaphosa, 61, was sworn in as South Africa's deputy president, completing a return to active politics after 13 years building Shanduka into an investment company with a net asset value of 8.8 billion rand.
Ramaphosa's career includes forging South Africa's biggest labor union, negotiating the end of apartheid rule and leading the writing of the nation's democratic constitution. He is now the country's second-richest black person after Patrice Motsepe, his brother-in-law, according the Johannesburg-based Sunday Times newspaper.
No Millstone
Ramaphosa "shouldn't carry the fact that he's wealthy like a millstone around his neck," Nic Borain, a political analyst who advises BNP Paribas Cadiz Securities, said by phone. The arrangement "means he's not open to accusations that he influences decisions to give himself advantages."
The rand fell for a second day to 10.4409 against the dollar as of 12:20 p.m. in Johannesburg, extending a decline after statistics agency data showed the economy contracted the most since 2009 because of a four-month mining strike at platinum companies including Lonmin.
Shanduka linked up with Nhleko, who will chair the new venture, because he was one of the few people with a profile matching Ramaphosa's, ensuring the company will continue to attract new partnerships, the people said.
The deal "enables me to leave Shanduka and eliminate any conflicts of interest confident that its founding vision of value creation, empowerment and transformation will continue through the new entity," Ramaphosa said.
Coca Cola
The interests of Ramaphosa's family will he held in blind trusts, he said in a separate statement distributed by the presidency.
Shanduka controls the South African franchise for McDonald's, bottle Coca Cola and has a coal-mining venture with Glencore Plc. Pembani holds a stake in a South African fuel retailer owned by Petroliam Nasional Bhd and has investments in companies including the South African coal unit of BHP Billiton Ltd. Ramaphosa also separately holds a 0.2 percent stake in Ivanhoe Mines Ltd., which is exploring for copper in Democratic Republic of Congo, according to data compiled by Bloomberg.
The transaction is subject to conditions and other agreements, the companies said.
Standard Bank acted as investment bank and facilitator for the transaction with Pembani while Bowman Gilfillan Ltd., a legal firm, advised Shanduka's majority shareholders. Rand Merchant Bank and legal firm Werksmans Attorneys advised Pembani.
Since winning the post of deputy president of the ruling African National Congress in 2012, Ramaphosa has quit company posts including his positions as chairman of MTN and Bidvest Group Ltd.
Before it's here, it's on the Bloomberg Terminal.
LEARN MORE