Draghi Says Timing Key as ECB Watches for Negative Spiral
Jeff Black and Alessandro Speciale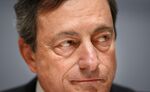 European Central Bank President Mario Draghi signaled policy makers are ready to take action in June should they see low inflation becoming entrenched.
"What we need to be particularly watchful for at the moment is, in my view, the potential for a negative spiral to take hold between between low inflation, falling inflation expectations and credit, in particular in stressed countries," Draghi said in a speech at an ECB conference in Sintra, Portugal. "The key issue today, however, is timing."
Draghi indicated that the ECB is focusing on liquidity measures it could deploy to help free up lending to companies and households. Officials have said they're working on a package of possible measures for their next meeting, including interest-rate cuts and liquidity injections, while holding out the prospect of asset purchases as a more powerful option.
The speech "seems to reinforce the view that the ECB is much more likely than not to deliver a package of stimulative measures at its June 5 policy meeting," said Howard Archer, an economist at IHS Global Insight in London. "This will likely include taking its deposit rate into negative territory and liquidity measures aimed at boosting bank lending to businesses, especially smaller ones."
Credit Mismatch
Draghi said after the ECB's May 8 policy meeting, when interest rates were kept on hold, that officials are "comfortable" with acting next time and willing to use unconventional instruments if needed. While he didn't announce any new policy ideas today, he did say that liquidity tools are one option should banks need more funding sources to meet rising demand for credit as the economy expands.
"We have to be mindful of mismatches between" trends in credit demand, the repair of bank balance sheets and the development of capital markets, he said. "Term-funding of loans, be it on-balance sheet -– that is, through refinancing operations -– or off-balance sheet -– that is, through purchases of asset-backed securities -– could help reduce any drag on the recovery coming from temporary credit supply constraints."
The Frankfurt-based ECB is reviewing lenders' balance sheets to purge the system of unrecognized losses before it takes over as supervisor in November. That threatens to curb credit supply to the economy, slowing growth and prices.
Lagarde Address
ECB Vice President Vitor Constancio said today that the conference in Sintra, called the ECB Forum, won't address current monetary-policy issues, and will focus on academic research papers.
The event is the central bank's answer to the U.S. Federal Reserve's annual monetary conference in Jackson Hole, Wyoming. Nobel Laureate Paul Krugman and Princeton University's Markus Brunnermeier are among the delegates to address the getaway at Penha Longa, a resort that traces its origins back to a 14th century monastery.
IMF Managing Director Christine Lagarde delivered the opening address yesterday, and warned policy makers that a new range of instruments to bolster financial stability, known as macroprudential tools, aren't proven. ECB Executive Board members Constancio, Peter Praet and Benoit Coeure are chairing panel discussions, and Draghi will wrap up with closing remarks tomorrow afternoon.
In his speech today, the ECB president said a prolonged period of low inflation can lead to higher-than-expected debt burdens and prompt lenders to tighten their credit standards.
Simultaneous Cut
"This is fertile ground for a pernicious negative spiral, which then also affects expectations," he said. "We are not resigned to allowing inflation to remain too low for too long."
Inflation in the 18-nation euro area has been below 1 percent since October, less than half the ECB's goal, and economies from Italy to the Netherlands contracted in the first quarter. Unemployment was 11.8 percent in March, near the record 12 percent reached last year.
Spanish bonds rallied after Draghi's remarks, on bets that stimulus will be added to the region's financial system. The single currency was little changed at $1.3642 at 3:53 p.m. Frankfurt time.
Ninety percent of economists in the Bloomberg Monthly Survey predict the ECB's Governing Council will ease policy in June. Most forecast a simultaneous cut in the benchmark rate, now at 0.25 percent, and the deposit rate, which is at zero. That would make the ECB the first major central bank to charge for holding lenders' excess cash overnight. Denmark ended its experiment with negative rates last month.
Asset Purchases
A much lower likelihood is given to asset purchases, which were seen by just 8 percent of the economists. While Draghi has said that is a policy option, officials have so far stopped short of the quantitative-easing programs conducted by the Fed, Bank of England and Bank of Japan.
The ECB is currently considering a combination of measures, Praet and fellow Executive Board member Yves Mersch said this month. A package could include a negative deposit rate and a liquidity injection tied to provisions that banks lend the money on to the real economy, Praet said.
ECB Governing Council member Jens Weidmann, the head of Germany's Bundesbank, said last week that he hasn't yet agreed on any measures and the decision will depend on inflation projections rather than the current rate.
Draghi said in April that a worsening of the medium-term inflation outlook would justify broad-based asset purchases. The ECB's Survey of Professional Forecasters published on May 15 showed a downgrade in inflation projections and the central bank's own staff forecasts, which policy makers will see at their June 5 meeting, may do the same.
European Elections
Even so, that won't be enough to trigger quantitative easing just yet, according to Michala Marcussen, global head of economics at Societe Generale SA in London.
"We believe that a more significant deterioration of the growth and inflation outlook is required for the ECB to adopt a large-scale, broad-based asset-purchase program in June," she said. "We also expect the ECB to keep the door open for more should inflation continue to surprise to the downside."
While investors are focused on what the ECB will do on June 5, they'll also keep looking for clues as to longer-term plans, said Huw Pill, chief European economist at Goldman Sachs Group Inc. in London.
"Market participants will focus on whether the new package is presented as another step along an inexorable path toward the introduction of large-scale asset purchases later in the year," Pill said. "Draghi's tone and body language in making the announcement are likely to weigh heavily on market sentiment."
The Sintra event comes as results of the elections to the European Parliament show a surge in support for protest parties. Draghi said yesterday that people want central bankers to provide answers to "thorny questions" of growth and distribution.
"People voting across Europe are clearly disengaged," he said. "Sustainable growth and jobs are vital to continue European integration which is, let's never forget, the best guarantor of peace."
Before it's here, it's on the Bloomberg Terminal.
LEARN MORE