Cameron Can Have Most Optimism of Farage Quake Victims
Robert Hutton and Kitty Donaldson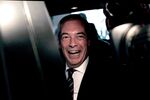 Nigel Farage, the triumphant leader of the U.K. Independence Party, referred to the historic defeats he inflicted on Britain's older parties as an "earthquake." As its victims got back to their feet, Prime Minister David Cameron had the greatest cause for optimism.
While the May 22 European elections saw Cameron's Conservatives come third in a national poll for the first time ever, they finished within 250,000 votes of the main opposition Labour Party in a vote in which governments are usually punished. As the premier pointed out, the Tories are the only main party to be offering voters a referendum on European Union membership, a key UKIP demand.
Labour leader Ed Miliband has ruled out such a move. Any attempt to win UKIP voters by campaigning on Farage's other key theme, cutting immigration, would risk a backlash in the one place Miliband's party performed well, multicultural London.
"How do you combine an approach that seems to be working in London but clearly isn't working elsewhere?" Mark Wickham-Jones, professor of politics at Bristol University, said in an interview. "The London results suggest that Britain has an image of itself as a tolerant and pluralistic society. Some of the other results suggest people have a number of major concerns and insecurities that Labour and others have not addressed. Forging a coherent program from this is by no means straightforward."
Farage played up that difficulty yesterday by announcing that he'll publish the outlines of his program for the May 2015 general election at UKIP's party conference in Miliband's electoral district in Doncaster, northern England.
'Out of Touch'
"It is difficult to think of somebody who is more out of touch with his own working-class voters," Farage told reporters at a victory rally in London.
While Miliband's party took half London's European Parliament seats and gained control of five of the capital's boroughs in simultaneous local polling, it failed to attract the levels of support outside London that would indicate it could win a majority in the House of Commons next year.
The UKIP leader was explicit about his desire to create difficulties for the leaders of other parties. With Cameron, he said he saw the June 5 special election for a parliamentary seat in Newark, central England, as his chance.
The district ought to be safe for the Tories, who took 54 percent of the vote there in the 2010 general election to UKIP's 4 percent. Even so, such ballots can, like the European elections, be used by voters to vent their unhappiness with the government.
'Our Damnedest'
"We're going to do our damnedest to pull off an even more spectacular result and, if we do that, I suspect Mr. Cameron will also begin to feel some of the pressure," Farage observed.
The party leader in the most immediate trouble was Deputy Prime Minister Nick Clegg, whose Liberal Democrats lost 10 of the 11 European Parliament seats they won in 2009. Clegg rejected calls yesterday for his resignation and was backed by senior party members.
Still, the election emphasized that since entering government, the Liberal Democrats can no longer pick up protest votes in the way they used to, with their place taken by UKIP.
Clegg described Farage's success yesterday as part of a Europe-wide "lurch towards populism and to the politics of very simple answers to very complex problems." Having tried television debates with the UKIP leader and a weekly phone-in radio show, Clegg has yet to find a way to win back support.
For Cameron, UKIP's votes are the ones he will target over the next year. His party picked up 23.9 percent of the popular vote in the European elections, just 1.5 percentage points behind Labour.
The premier rejected the suggestion yesterday of an electoral pact with UKIP, something that would undermine his strategy of telling voters they face a choice between himself and Miliband as prime minister. According to Andrew Hawkins of polling company ComRes Ltd, this may be a fruitful strategy.
"A significant proportion of people who were Conservatives will go back to voting Conservative next year," Hawkins said in an interview. "That is who they have got to pick off."
Before it's here, it's on the Bloomberg Terminal.
LEARN MORE