Denmark Raises 2015 GDP Outlook as Private Spending Improves
Peter Levring and Christian Wienberg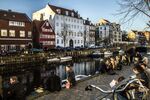 Denmark's government raised its forecast for economic growth next year amid signs that consumers are growing more confident.
Gross domestic product will expand 2 percent in 2015, versus a December forecast for 1.9 percent, the Copenhagen-based Economy Ministry said in a statement obtained on by Bloomberg yesterday. Consumer spending will grow 2 percent, more than the 1.6 percent estimated earlier.
"For 2015, when GDP growth is set to accelerate further, a normalization of the loose fiscal policy is assumed, including a gradual adaptation from the historically high public investment levels in 2012-14," the government said.
Scandinavia's weakest economy is showing signs of emerging from the fallout of a 2008 burst housing bubble that triggered a community banking crisis and undermined household sentiment. A report this month showed consumer confidence rose to its highest since 2007. Private spending accounts for about half Denmark's $350 billion economy.
Housing investment will grow 3.3 percent this year, down from a previous estimate for 4.1 percent, according to the Economy Ministry document. Investment growth will slow to 2.2 percent next year, versus an earlier forecast for 1.4 percent.
Very Critical
The government also raised its domestic borrowing need to 116 billion kroner ($21 billion) from a December estimate of 84 billion kroner, the Finance Ministry said in a separate statement. The total financing need was raised to 144 billion kroner from 112 billion kroner.
The yield on Denmark's 1.75 percent bond due 2025 rose 2.5 basis points to 1.757 percent, compared with a 1 basis point increase on similar-maturity German bunds, according to data compiled by Bloomberg.
"This year we're being saved by extraordinary pension taxes but it's going to get critical next year," said Jan Stoerup Nielsen, an economist at Nordea Bank AB. "They will be extremely close to the limits for the deficit. It's very, very critical as they're basing this on a relatively optimistic view of GDP."
The administration of Prime Minister Helle Thorning-Schmidt has pledged to promote stable finances to defend its AAA credit rating. Public debt will reach 43.5 percent of GDP this year, about half the average in the European Union, the European Commission said May 5.
Denmark's economy will grow 1.4 percent this year, versus a 1.6 percent estimate in December. The economy expanded 0.4 percent in 2013. Public spending will rise 1.2 percent in 2014, less than the 1.5 percent previously estimated, and versus 0.8 percent in 2013, the Economy Ministry said.
The government also said that the deficit will be 3 percent of GDP in 2015 with a "structural deficit of 0.4 percent," meaning finances will be "very close" to the limits set by the "fiscal policy constraints."
Before it's here, it's on the Bloomberg Terminal.
LEARN MORE