What's Putin Up to Now? Four Possible Explanations
By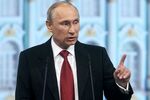 Vladimir Putin seems to be changing his tune. Speaking today at the St. Petersburg International Economic Forum, the Russian president said he would "respect the will of the Ukrainian people" in that country's May 25 president election and would "work with the new elected institutions" in Kiev.
Also today, the Russian army said it has begun pulling troops back from the Ukraine border, as Putin has repeatedly promised. A U.S. defense official told CNN on May 21 that there was "evidence of troops packing up," although he added, "Nothing has moved yet."
Putin's seemingly conciliatory rhetoric contrasts with his earlier refusal to accept the Ukrainian election as legitimate. Others in the Russian government continue to sound hard-line. Foreign Minister Sergei Lavrov said earlier today that Russia would wait until after the May 25 vote and possible runoff before deciding whether to recognize the winner. And Valery Gerasimov, head of the Russian military's general staff, told a conference in Moscow today that if NATO built up its military presence in countries adjoining Russia, "We will have to take measures in response."
What's Putin up to? Here are four possible interpretations:
1. He's bluffing to buy time.
Putin's remarks appeared to reassure financial markets, as the ruble strengthened and Russian shares rose after he spoke in St. Petersburg. He may also be trying to sow discord between the U.S. and Europe, which stands to lose far more than the U.S. would in an all-out trade war with Russia. Putin's apparent willingness to accept the Ukrainian election result could give the Europeans a good argument for refraining from further sanctions. "Putin is positioning pre-election to appear to be reasonable so as to head off further Western sanctions, " says chief emerging-markets economist Timothy Ash of Standard Bank in London. He adds, however: "The tactics might be changing, but the strategic objectives are the same. Meanwhile, pro-Russian troops continue to sow havoc on the ground." Indeed, Ukraine's military forces on May 22 suffered their worst day of losses against pro-Russian separatists, as an attack by rebels left 16 soldiers dead at a checkpoint near Donetsk.
2. Sanctions are biting Russia harder than expected.
Economy Minister Alexei Ulyukayev told Bloomberg Television in St. Petersburg that he was confident Russia wouldn't be hit with tougher sanctions targeting entire industry sectors. Such punishment is "like a nuclear weapon—nobody uses it," he said. But it's clear that more-limited sanctions already in place are having an effect. Putin admitted at the St. Petersburg forum that some of his friends had suffered harm after they and their businesses were targeted with sanctions. Many Western corporate chiefs stayed away from the St. Petersburg forum under pressure from their home governments. There's also a risk that Visa and MasterCard, which handle 90 percent of payment-card transactions in Russia, could pull out of the country. The Ukraine crisis, including the threat of sanctions, has taken "a heavy toll on the Russian economy, which seems to be slipping into recession," London-based economists at Capital Economics wrote in a client note today.
3. Putin has realized that his Ukraine strategy hasn't worked and that he needs to regroup.
After swiftly annexing Crimea, Putin has stumbled in eastern Ukraine, says Joerg Forbrig, a senior program officer at the German Marshall Fund in Berlin. "He overestimated the pro-Russian momentum, and overestimated how many would follow the supporters he sponsored. He has not succeeded in interrupting the electoral process." The results of the separatist referendum held in eastern Ukraine earlier this month were widely disregarded, and Putin himself appeared to distance himself from it. Putin also has suffered a setback as some leading Ukrainian oligarchs, who previously supported the pro-Russian government of former President Viktor Yanukovych, now are backing the new government in Kiev and helping fight the separatists. "That's something Putin wanted to avoid," Forbrig says.
4. Putin believes his Ukraine strategy is working so well that there's no need to stir the pot further.
"Moscow's goal is to rigidly fix the 'red line' that was drawn in the post-Soviet period, as well as dramatically improve its global status," Fyodor Lukyanov, head of the Moscow-based Council on Foreign & Defense Policy, writes in an article this month in the journal Russia in Global Affairs. Lukyanov, whose think tank is close to the Kremlin, argues that Putin's actions have forced other nations to take Russia more seriously as a global power. "Until the events in Ukraine, the U.S. considered Russia a headache, but not a fundamental problem," he writes. "Now, even if the U.S. does not consider Russia a proper rival, it must at least consider the country a contender for that role." While sanctions may pinch Russia, Lukyanov contends that the Kremlin has already factored that possibility into its decision-making. What's more, he contends that imposing tougher sanctions could backfire on Western governments. "They must ask themselves to what extent they can rely on global economic and communications systems, if it is so easy for dominating powers to shut off access when it suits their interests. The sanctions against Russia could therefore result in a fragmentation of financial and communications systems, and lend further impetus to the multipolar restructuring of the world."
Despite his more moderate rhetoric, Putin's goal remains to foster instability in Ukraine and undermine the government in Kiev, Masha Lipman, an analyst at the Carnegie Moscow Center, tells Bloomberg News. "Russia wants to avoid any possibility that Ukraine will move toward normalcy and the Western orbit," she says.
Before it's here, it's on the Bloomberg Terminal.
LEARN MORE