How Much Oil Can California Produce? Much Less Than We Thought
By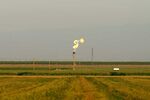 Fracking California's Monterey Shale was always going to be politically difficult. Now it looks as if it's physically impossible. This week, the Energy Information Agency cut its estimates for the amount of recoverable oil in the Monterey Shale by 96 percent, from 13.7 billion barrels to 600 million.
The key word here is recoverable. Those 13 billion barrels didn't disappear; it's just that the EIA has decided that getting to them is a lot harder than it first thought. This is the second time in two years that the EIA has cut its estimate for the amount of oil it thinks can be produced from the Monterrey Shale. In 2012, it cut its forecast from 15.4 billion barrels.

For years, geologists believed that the Monterey formation was America's largest reserve of shale oil and gas, with about two-thirds of the country's shale oil reserves. That may still be true, but what's the point if you can't get at them? "Not all reserves are created equal," EIA Administrator Adam Sieminski told reporters at an energy summit in New York on Wednesday. "It just turned out it's harder to frack that reserve and get it out of the ground."
Not that it was necessarily going to happen. The Monterey stretches beneath what is (in parts) the heart of the environmental movement, from L.A. to north of the Bay Area. Oh, the irony. A good chunk of the formation also stretches east toward the relatively conservative area around Bakersfield. Though voters there may be more amenable to the notion of increasing U.S. oil production than more liberal counterparts along the coast, the biggest issue in Bakersfield is water. And fracking takes a whole lot of water.
With California caught in a severe drought, energy companies using millions of gallons of water to frack oil and gas wells, while farms remain parched, isn't exactly a winning proposition. Recent polls suggest that a majority of Californians support putting a moratorium on fracking in the state, and a bill is currently pending in the state senate to do just that. Questions as to whether fracking caused an earthquake that hit L.A. in March won't help, either.
Before it's here, it's on the Bloomberg Terminal.
LEARN MORE