The U.S. Military's New Mission: Slimmer Kids
by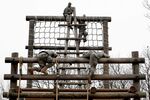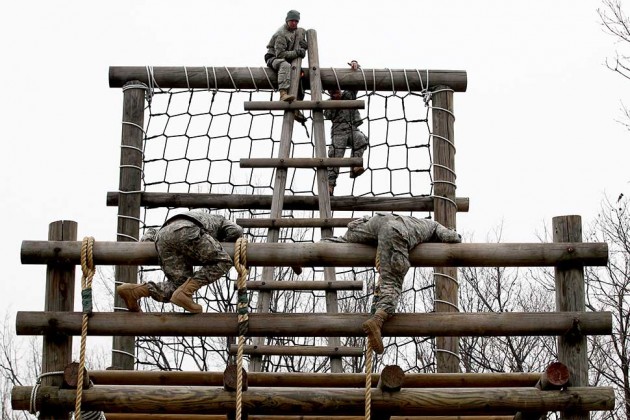 The No. 1 reason people can't join the military is that they're overweight or obese, says a group of retired military leaders who are fighting for improved childhood nutrition. Under the name Mission: Readiness, they estimate that more than one in five young Americans is too heavy to enlist in the armed services.
On Thursday, Mission: Readiness representatives and Department of Agriculture Secretary Tom Vilsack discussed how efforts to excuse schools from meeting USDA school food nutrition standards by special interest groups and some members of Congress affect the military. The group has been advocating the removal of junk foods from schools and the imposition of better nutritional standards in school lunches. The epidemic, they say, is affecting service members as well.
In a 2012 report called "Still Too Fat to Fight" (PDF), the group writes: "Finding ways to reverse our epidemic of obesity is crucial because the U.S. Department of Defense alone spends an estimated $1 billion per year for medical care associated with weight-related health problems" for service members and their families.
The percentage of overweight active duty personnel has fluctuated between 50 percent and 60 percent since 1995. "Consistent with national trends, rates of overweight and obesity within the U.S. military population also have increased over time, although rates of  overweight have leveled off in recent years," according to a Defense Health Board presentation (PDF).
According to a Department of Defense survey (PDF), in 2011, 51.2 percent of service members were overweight based on Body Mass Index, or BMI. That's not necessarily a perfect metric of fitness for the armed services. It's a function of height and weight, which means very muscular people may register as overweight or obese. (At 6-foot-6 and 218 pounds, Michael Jordan was slightly overweight in his playing days.) The survey acknowledges considerable miscalculation of muscular individuals; at the same time, not that many in the armed services are built like Jordan.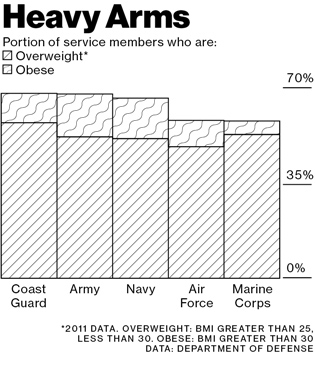 The Coast Guard has the highest proportion of overweight enlistees (57 percent); more than half of male service members are overweight, vs. 34 percent of women. Obesity affected 12.4 percent of service members, most often in the Army (15.8 percent) and Navy (14.9 percent) and about twice as frequently afflicting males (13.5 percent) as females (6.4 percent).
Among males who had to lose weight to join the military, 36.1 percent had to lose 10 to 19 pounds, and nearly 40 percent had to lose at least 20 pounds. Still, the military is doing better than the civilian population.
Before it's here, it's on the Bloomberg Terminal.
LEARN MORE