The NBA Has Set the New Standard for Tolerance in Sports
by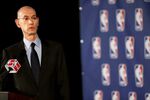 When 50 U.S. senators sent a letter to National Football League Commissioner Roger Goodell yesterday asking the league to change the name of the Washington Redskins, they opened by citing the example of the National Basketball Association in its treatment of Los Angeles Clippers owner Donald Sterling. NBA Commissioner Adam Silver's response was "a clear message that racism will not stand in the NBA," the senators wrote, and urged the NFL to do likewise in ending the use of a racial slur as a team name.
When the sexist e-mails of English Premier League Chief Executive Richard Scudamore were leaked to the press this month and the league did nothing, Slate wrote that soccer had "failed its Donald Sterling moment." The publication was not alone in comparing Scudamore to Sterling and the NBA to the EPL. In less than a month, the NBA's punishment of Sterling, which is not yet finished, has become the standard for dealing with bigotry, prejudice, and discrimination in professional sports. From now on, when owners or executives offend, they can expect to hear about Sterling.
When Adam Silver announced on April 29 that he had banned Sterling for life and would pursue stripping his ownership of the Clippers, it almost instantly came to be seen as the only thing he could have done. But before Silver took the podium that day, the outcome was anything but certain. Forcing an owner to sell his team is unprecedented. It was the "nuclear option." The hotel conference room in New York where Silver spoke that day was eerily silent as hundreds of reporters waited for him to begin.
Now the unprecedented is quickly becoming the expected. It remains to be seen whether it will become the norm. The Redskins are still the Redskins. And Scudamore still runs the Premier League. There are, of course, important differences in those cases. The team name in Washington, D.C., is an 81-year-old relic, not a bombshell dropped in the NFL's lap. Scudamore is himself the guy who would normally hand out punishments in the top division of English soccer. But the pressure to get rid of bigotry is greater now than it has ever been, and the NBA is to thank for that.
Before it's here, it's on the Bloomberg Terminal.
LEARN MORE