Thai Stocks Fall After Coup as Baht Is Little Changed
Lilian Karunungan, Weiyi Lim and Anuchit Nguyen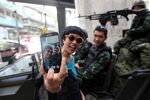 Thailand's stocks declined and the baht was little changed against the U.S. dollar after the military seized power following six months of political unrest.
The SET Index of shares lost 0.6 percent at the close as tourism-related stocks including Airports of Thailand Pcl dropped. The baht traded at 32.56 per dollar at 11:29 a.m. in New York, after strengthening to as much as 32.46 earlier. It was trading at 32.40 immediately prior to the coup, which was announced yesterday after trading ended in the bond and stock markets. The 10-year bond yield fell one basis point to 3.78 percent, according to data compiled by Bloomberg.
"We are still cautious on both the baht and Thai equity as we still need to see whether the military can eventually hand over power back to the people," Yonghao Pu, the Hong Kong-based chief investment officer for Asia Pacific at UBS Wealth Management, which oversees about $2 trillion worldwide, said by e-mail. The coup is a "stabilizing factor" in the short term, he said.
Overseas investors pulled $408 million from Thai stocks in the three trading days after martial law was declared early on May 20, helping send the SET gauge down 0.7 percent this month through yesterday. While the nation has the biggest cumulative trade surplus for more than three years, an official report this week showed gross domestic product shrank 0.6 percent in the first quarter from the prior three months as political unrest hurt production and tourism.
Economic Growth
"The baht has held up pretty well despite all the political challenges," said Sanjay Mathur, head of research and strategy for Asia excluding Japan at Royal Bank of Scotland Group Plc in Singapore. "The fact that its broader fundamentals are in shape has obviously helped the baht, but I think the biggest issue for Thailand right now is they need to revive growth."
The baht has dropped 0.6 percent versus the dollar in May, making it the worst-performing currency in Asia. After the last coup was announced on Sept. 19, 2006, the currency weakened 1.4 percent the next day before rebounding 1 percent in the following trading session. The baht ended that year 4.3 percent stronger than it was prior to the transfer of power.
The military coup may hurt investors' confidence, Krungthep Turakij reported, citing central bank Governor Prasarn Triratvorakul. The baht is unlikely to weaken to 37 baht per dollar.
There may be some outflows of funds, though they should be limited, Roong Mallikamas, the central bank's spokeswoman, told reporters. The Central bank would step in to maintain baht stability if it did move too much, she said.
Thailand's bourse was shut on Sept. 20, 2006, a day after the military coup that toppled former Prime Minister Thaksin Shinawatra. The SET Index dropped 3 percent in the next two days of trading.
Tourism Stocks
The Thai stock index pared a loss of as much as 2.1 percent today. Airports of Thailand slid 2.4 percent to the lowest level since Feb. 26. Asia Aviation Pcl, which controls the country's biggest budget airline, dropped 1 percent. SC Asset Pcl, a property developer controlled by Thaksin's family, slumped 3.2 percent.
Five-year credit-default swaps protecting Thailand's bonds against non-payment fell nine basis points to a one-week low of 124 in New York, according to data compiled by Bloomberg.
"We view the current military coup as likely overall positive as it creates a more stable environment," Mark Mobius, who oversees about $50 billion as Templeton Emerging Markets Group's executive chairman, said by e-mail. "The prognosis for Thailand is good given that direct foreign investors want stability in the country."
Reduce Risk
While Credit Agricole CIB, Commonwealth Bank of Australia and Mizuho Bank Ltd. forecast short-term weakness for the baht, the coup may provide more certainty in a market that has endured 12 military takeovers since 1932, Mark Williams, chief Asia economist at Capital Economics in London, said yesterday by phone.
"It could be positive for financial markets in the near term by reducing uncertainty and reducing the risk of the political standoff turning violent," Williams said. "But it underlines the scale of the divide in Thailand and suggests that a lasting resolution to the political conflict is a long way off."
The rift between the largely rural-based support for Thaksin, who was ousted in a 2006 coup, and his royalist opponents has polarized Thai society and deterred foreign visitors. The nation will probably have the slowest growth among its major Southeast Asian peers this year, according to Bloomberg surveys.
'End Game'
The baht may weaken to 33 per dollar "in the next couple of sessions," according to Frances Cheung, head of Asian rates strategy at Credit Agricole in Hong Kong. Mizuho Bank's senior economist Vishnu Varathan said it may drop to 33.5.
The stock market could fall "on a knee-jerk reaction to heightened perceived political risk, but it should be an opportunity to start buying near the point of maximum pessimism," Alan Richardson, whose Samsung Asean Equity Fund beat 96 percent of peers tracked by Bloomberg in the past five years, said in a phone interview yesterday from Hong Kong. "We are approaching the end game to the political crisis."
Before it's here, it's on the Bloomberg Terminal.
LEARN MORE