Obama Names San Antonio Mayor as Choice for HUD Chief
Margaret Talev and Angela Greiling Keane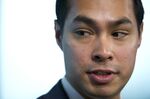 President Barack Obama named San Antonio Mayor Julian Castro as his next housing secretary, bringing a Hispanic Democrat seen as a potential vice presidential candidate to the administration.
If confirmed by the U.S. Senate, Castro would replace Housing and Urban Development Secretary Shaun Donovan, who Obama is nominating to serve as his next budget director.
Obama praised Donovan, saying he played a key role in the government's efforts to revive the housing industry, and said Castro will bring to HUD a record of accomplishment and an understanding of the struggles faced by many Americans.
"He's never forgotten where he comes from," Obama said of Castro during a ceremony at the White House. "He's lived out the American dream."
With the nominations, Obama is seeking to breathe new energy into his cabinet while keeping himself surrounded by trusted advisers. Castro's elevation also has implications for Democrats, as the party tries to lock in their dominance among Hispanic voters nationwide and make inroads in Texas, where the growth of that ethnic group may weaken the Republican hold over the state in future campaigns.
Castro, 39, the keynote speaker at the 2012 Democratic National Convention in Charlotte, North Carolina, is in his third term as San Antonio's mayor. His elevation to the cabinet post may make him a contender for the second spot on the 2016 Democratic presidential ticket.
Castro's Record
Castro first won office in 2001, elected to the San Antonio City Council. In his speech two years ago at his party's national convention, Castro called education crucial for building better cities.
"We're investing in our young minds today to be competitive in the global economy tomorrow. And it's paying off," he said, referring to efforts in San Antonio.
His twin brother, Joaquin Castro, serves in the U.S. House of Representatives as a Democrat from Texas.
If confirmed, Donovan, 48, would become Obama's fourth director of the Office of Management and Budget after Peter Orszag, Jack Lew and Sylvia Mathews Burwell, who Obama has nominated to take over the Department of Health and Human Services. Jeffrey Zients, current director of the National Economic Council, has served twice as acting director of the budget office.
Budget Concerns
Donovan would be Obama's point man in pushing congressional Republicans for approval of the president's budget. He's also in charge of preparing a revised economic forecast covering the economy, inflation, deficit and unemployment in a report that's due in July.
Donovan led HUD through the steep decline in home prices that accompanied the financial crisis that Obama inherited upon taking office in January 2009.
Earlier this year Donovan urged Congress to support a Senate effort to remake the nation's housing finance system by winding down U.S.-supervised Fannie Mae and Freddie Mac and replacing them with a government reinsurer of mortgage bonds.
"It may well be the only chance we have this decade," he said last month.
Donovan headed the New York City Department of Housing Preservation and Development prior to becoming HUD secretary. There he created a $230 million loan fund to help private and nonprofit developers buy property for affordable housing.
Before it's here, it's on the Bloomberg Terminal.
LEARN MORE