Michigan Judge Allows Conyers on Election Primary Ballot
Margaret Cronin Fisk and Derek Wallbank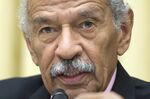 John Conyers Jr., a member of the U.S. House of Representatives since Lyndon Johnson was president, will have his name on the ballot for an Aug. 5 Democratic primary, a federal judge ruled.
U.S. District Judge Matthew Leitman's decision in Detroit federal court yesterday came hours after Michigan's secretary of state declined to put Conyers on the ballot because he provided fewer than half the required valid signatures on his nominating petitions.
"Judge Leitner's decision affirms that all should have equal entry and access to the political process," Conyers said in a statement. "I always felt that democracy would win."
Hundreds of signatures were acquired by workers who weren't registered to vote, a violation of Michigan law, Secretary of State Ruth Johnson said yesterday. Johnson, a Republican, upheld an earlier decision by county election officials barring Conyers from the primary.
Conyers, 85, should be on the ballot because he is likely to win his challenge of the state officials' decision, Leitman ruled. The judge, appointed by President Barack Obama, a Democrat, didn't decide on the merits of Conyers's case.
Nader Challenge
The Michigan law is "in all material respects, indistinguishable from the statute" held invalid by the U.S. Court of Appeals in Cincinnati in a 2008 decision involving former presidential candidate Ralph Nader, Leitman said yesterday. He granted an immediate injunction to allow for appeals and to let officials meet any ballot-printing deadlines. Leitman said he would issue an opinion on the law soon.
"It's too early to comment" on the ruling, Gisgie Davila Gendreau, a spokeswoman for Johnson, said in an e-mailed message. "We've received the judge's order, but will have to review it with our attorneys before we decide how to proceed."
"The decision is not just a victory for Congressman Conyers, but to all who would wish to engage in political speech," said Michael Steinberg, attorney for the American Civil Liberties Union Fund of Michigan, which challenged the law.
If re-elected, Conyers will become the longest-serving representative, as his Michigan colleague John Dingell, 87, retires this year.
First Amendment
Conyers filed the lawsuit following his disqualification, alleging the law governing the petitions violated his First Amendment free-speech and freedom-of-association rights.
Conyers was first elected to Congress in 1964. One of 13 founders of the Congressional Black Caucus in 1969, he was part of the Watergate impeachment hearings in 1974, played a critical role in passing the Violence Against Women Act in 1994 and was chairman of the House Judiciary Committee from 2007 to 2011.
His district, which is overwhelmingly Democratic, encompasses Detroit's west side and several smaller Wayne County cities. In 2012 Conyers won 83 percent of the vote in the general election.
In April, as part of his bid for a 25th term, Conyers's campaign filed petitions with about 2,000 signatures, double the number required to place him on the ballot. Election officials rejected hundreds of them because of technical violations such as incorrect voter addresses.
Of 1,236 remaining signatures, the campaign manager for his opponent, Horace Sheffield III, successfully challenged 644 because they were collected by non-registered campaign workers. That left 592 valid ones, according to Wayne County Clerk Cathy M. Garrett. Johnson yesterday sliced that number to 455 valid signatures.
Sheffield didn't immediately respond to an e-mailed request for comment on the ruling.
No Word
Conyers's campaign manager Bert Johnson said he hasn't heard from Sheffield on a possible attempt to challenge the judge's decision, and cautioned it may not be the end of the process.
Leitman's ruling and existing precedent would make it "pretty difficult to deny" Conyers a spot on the ballot, Bert Johnson said.
"You plan for the worst and hope for the best," he said. "This is a pretty good day."
Before it's here, it's on the Bloomberg Terminal.
LEARN MORE