Iran Uranium Stockpile Dropped 82% After Nuclear Accord
Jonathan Tirone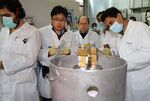 Iran's stockpile of its most sensitive nuclear material has dropped 82 percent since world powers implemented an interim deal with the Islamic Republic, United Nations nuclear inspectors said.
Iran's stockpile of uranium enriched to 20 percent fell to 38.4 kilograms (84 pounds) from 209 kilograms reported in January, International Atomic Energy Agency monitors said today in an 19-page report. The country has diluted or converted 123 kilograms of the material in the three months since the IAEA's last report.
Transparency measures "have been implemented by Iran as planned," the IAEA said. "Iran's engagement with the agency, including the provision of information, and the Agency's ongoing analysis is helping the agency to gain a better understanding of Iran's nuclear program."
The scheduled IAEA report shows how efforts to resolve the decade-long standoff over Iran's nuclear work are affecting uranium output. Iran agreed to voluntarily cap its enrichment activity for six months in return for limited sanctions relief. Diplomats aim to reach a permanent accord by July.
Dual Use
Iran, with the world's No. 4 proven oil reserves, also showed the agency new documents "to substantiate its need and application" of dual-use detonators widely used in petroleum mining and nuclear weapons, the agency reported. The IAEA continues to assess the information, it said.
About 175 kilograms of 20 percent-enriched uranium, or 630 kilograms of low-enriched uranium, if further purified, could yield the quantity of weapons-grade uranium needed to produce a bomb, according to the London-based Verification Research, Training and Information Center, a non-governmental observer to the IAEA that's funded by European governments.
Before it's here, it's on the Bloomberg Terminal.
LEARN MORE