pursuits
Donald Sterling Might Just Go Quietly
By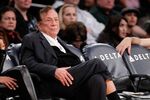 According to reports from both TMZ and ESPN this morning, Donald Sterling has agreed to allow his wife, Shelly, control a sale of the Los Angeles Clippers. A person familiar with the situation confirmed to Bloomberg Businessweek that there is an agreement between the two Sterlings for her to negotiate a sale. That person says that Shelly Sterling and her lawyers have been in communication with NBA Commissioner Adam Silver and other league representatives over the past weeks, including an in-person meeting at the NBA's New York offices on Tuesday of last week.
While there is no agreement in place between Shelly and the league, the person familiar with the situation expressed confidence that the NBA will welcome the prospect of avoiding a long legal fight with the Sterlings. League spokesman Mike Bass said in a statement: "We continue to follow the process set forth in the NBA Constitution regarding termination of the current ownership interests in the Los Angeles Clippers and are proceeding toward a hearing on this matter on June 3." League owners are expected to vote to strip the Sterlings of the team after that hearing.
Any move to make Shelly Sterling the controlling owner of the Clippers would have to be approved by the league's other owners. Any sale of the team, forced or otherwise, is also subject to their approval. It is possible, however, that the league might agree to allow Shelly to oversee a sale, within the normal process and approvals, in exchange for both Sterlings agreeing to give up their interests in the team without legal challenges. Shelly, in this scenario, would deliver the team to the league-vetted buyer of her choice and split the proceeds with her husband–and the NBA would be rid of the Sterlings in a matter of weeks or months instead of years.
Before it's here, it's on the Bloomberg Terminal.
LEARN MORE