California Counties Sue Drugmakers Over Painkiller Abuse
By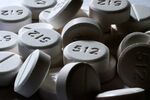 Are drugmakers responsible for an epidemic of prescription painkiller abuse? A new lawsuit alleges that 20 years ago, pharmaceutical companies set out to turn drugs that were narrowly prescribed for short-term acute pain into commonplace remedies for such conditions as arthritis and back pain, downplaying the risk of addiction.
The suit, brought by two counties in California against five drug companies, claims that "a common, sophisticated, and deeply deceptive marketing campaign that continues to the present, set out to, and did, reverse the popular and medical understanding of opioids." The defendants include companies that have made billions selling widely used painkillers such as OxyContin, Percocet, and Actiq.
Attorneys for Orange County and Santa Clara County filed the suit in California Superior Court on May 21. They say the drugmakers violated state laws against false advertising and unfair competition. In a 105-page complaint, they seek an unspecified amount of restitution and civil penalties and ask the court to restrict the companies from "further false or misleading statements."
A spokeswoman for Johnson & Johnson subsidiary Janssen Pharmaceuticals said in an e-mail that the company is "committed to ethical business practices and responsible promotion, prescribing and use of all our medications." Purdue Pharmaceuticals, which makes OxyContin, and Teva, which makes Actiq, declined to comment. Two other companies also named in the suit, Actavis and Endo, the maker of Percocet, did not respond to requests for comment on Thursday.
The lawsuit is an aggressive strike at the drugmakers that is "reminiscent of the legal attack against the tobacco industry," the Los Angeles Times reported. It's not the first skirmish between local governments and pharma companies. Massachusetts Governor Deval Patrick recently tried to block the sale of a powerful new painkiller called Zohydro after it was approved by the Food and Drug Administration late last year, but a federal judge ruled that Patrick couldn't.
Deaths involving prescription painkillers more than tripled in the first decade of the 21st century, according to data recently published by the Centers for Disease Control. The California case seeks to pin the blame for that rise on drug companies. The prescription drug abuse crisis has also been linked to a resurgent trade in illegal heroin, which is often cheaper than painkillers on the street. Local governments bear the cost in ambulance trips, emergency room visits, and crime associated with painkiller abuse.

The FDA first approved OxyContin in 1995. The agency has made several changes to the label warnings on opioid painkillers over the years. The most recent change, proposed last fall and finalized in April, instructs doctors that the medicine is "indicated for the management of pain severe enough to require daily, around-the-clock, longterm opioid treatment and for which alternative treatment options are inadequate."
The manufacturers may argue that regulators approved their products to treat chronic pain, and doctors wrote the prescriptions. The FDA approval process relies on extensive, rigorous clinical testing, and drugs are marketed with abundant warnings and safety information. Drug companies aren't allowed to promote medications for unapproved uses, but doctors can prescribe them for so-called off-label treatments.
The suit says that pharmaceutical companies co-opted doctors and patient advocacy groups to overstate the benefits of pain pills while soft-pedaling the risks of addiction. It also claims that manufacturers targeted "misleading medical education programs, treatment guidelines, and other efforts" at primary care doctors who would encounter patients with pain, but "are less likely than specialists to have the time or knowledge to evaluate defendants' deceptive messages or to closely monitor patients for signs of improvement or adverse outcomes (such as addiction)."
Before it's here, it's on the Bloomberg Terminal.
LEARN MORE