BOJ Policy Planner Amamiya Seen Being Asked for Second Term
Kyoko Shimodoi, Toru Fujioka and Masahiro Hidaka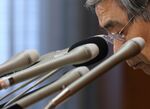 The Bank of Japan's chief executor of its unprecedented monetary stimulus, Masayoshi Amamiya, is expected by central bank and Abe administration officials to be reappointed to a rare second term, according to people familiar with the discussions.
BOJ Governor Haruhiko Kuroda and his board are charged with making the determination -- subject to the approval of Finance Minister Taro Aso -- and the people weren't aware if a decision has been made, asking not to be named as the conversations weren't public. Amamiya's four-year term as an executive director concludes June 2.
There has been only one renewal of an executive director position -- a job just below that of board member -- since the BOJ achieved legal independence in 1998. A reappointment of Amamiya would underscore the importance of his skills in helping craft the central bank's plan to pull Japan out of deflation and achieve stable 2 percent consumer-price gains. The BOJ is now about half way to its target.
"Amamiya is very capable," said Etsuro Honda, who advises Prime Minister Shinzo Abe on monetary policy. "We are doing something revolutionary so we have to have capable people. The position would be hard for someone new to handle."
Amamiya has helped shape key policies as the central bank battles deflation in the world's third-biggest economy. After less than a year as Osaka branch manager, Amamiya, 58, got his old job back as head of the monetary affairs department in March 2013, about two weeks before Kuroda unveiled record easing on April 4.
'Knowledge-Bank'
As a director of the policy planning division, Amamiya, who is fluent in English, helped to manage an exit from a zero-rate interest rate policy under former Governor Masaru Hayami in August 2000, and played a role in implementing quantitative easing in March 2001. He was promoted to executive director of monetary affairs in 2010 just before former Governor Masaaki Shirakawa set up an asset-purchase program.
"Amamiya serves as Governor Kuroda's knowledge-bank, and if he wasn't reconfirmed, there would be a lack of clarity about the management of monetary policy going forward," said Masamichi Adachi, senior economist at JPMorgan Chase & Co. in Tokyo and a former official at the central bank. "To have an old BOJ hand continue as Kuroda's adviser means that the current stance on monetary policy would be maintained."
Inflation Stalling
Retaining Amamiya could also keep open a personal line of communication between the central bank and the government. Amamiya and Yasushi Kinoshita, the finance ministry's top bureaucrat, know each other well, with both graduating from the University of Tokyo in 1979.
The decision on Amamiya comes as momentum toward the BOJ's inflation goal shows signs of fading. Gains in consumer prices excluding fresh food -- the central bank's main gauge -- stayed at 1.3 percent in March for a fourth straight month. The Nikkei 225 Stock Average has lost 11 percent this year, the most among major stock indexes worldwide.
The yen's rise this week to a more than three-month high against the dollar reversed some of last year's 18 percent drop that boosted import costs and stoked inflation. The currency, at 101.80 at 10:04 a.m. in Tokyo, has gained 3.4 percent this year.
The central bank, which this week left its monetary policy unchanged at a board meeting, said core inflation is likely to stay around 1.25 percent "for some time."
Kuroda, at a press conference after the policy decision, signaled the BOJ would stick with current policy, predicting inflation will accelerate to 2 percent in the middle of the central bank's projection horizon, a three-year period through March 2017.
Seventy-five percent of economists surveyed by Bloomberg News this month predicted the BOJ will boost stimulus by the end of the year.
The BOJ has six executive directors. Hiroshi Nakaso's term as an executive director in charge of international affairs was renewed in November 2012, the first time under the current BOJ law. Nakaso held the position until he became deputy governor in March 2013.
Before it's here, it's on the Bloomberg Terminal.
LEARN MORE