Anti-China Riots in Vietnam Scare Taiwan
At least 500 Taiwanese-owned plants were damaged
by , , and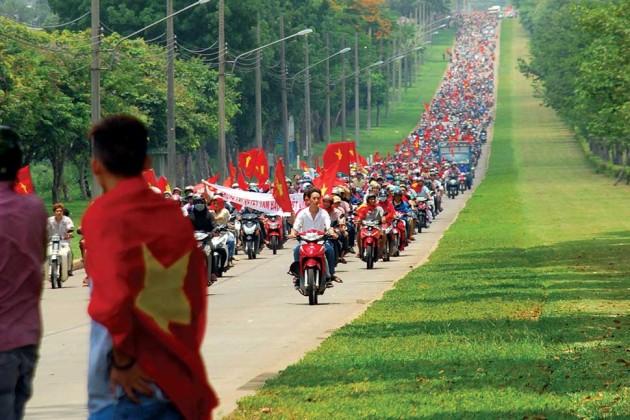 In the territorial dispute between Vietnam and China, the Taiwanese are collateral damage. Since Vietnamese protests against a Chinese oil rig in disputed waters turned ugly on May 13, officials in Hanoi have been trying to reassure foreign factory owners that the country is still a safe place to invest. In Binh Duong province just north of Ho Chi Minh City, the local government chairman on May 20 met with representatives from almost 100 foreign companies to apologize and promise to help with the recovery effort. The next day, the central government announced a series of tax breaks and other measures for companies damaged by the attacks.
But the Taiwanese may need more than kind words and pledges. Vietnamese protesters set fire to 16 Taiwan-owned factories, possibly because of their Chinese names, and at least 500 Taiwanese-owned plants were damaged, according to a preliminary estimate by the Council of Taiwanese Chambers of Commerce in Vietnam. "Many factories will need completely new construction and new equipment," says Serena Liu, the council's chairwoman. "All the damage is still being assessed." James Liu, chairman of the Taiwan Business Association in Binh Duong, told the Nguoi Lao Dong newspaper, "Whenever I meet companies, they all ask me if it is secure enough to keep their investments in Vietnam."
The attacks came even though for years the Taiwanese government has encouraged businesses to set up shop in Vietnam rather than China. Vietnam was part of Taiwan's Go South strategy of securing markets in Southeast Asia and lessening its dependence on the mainland. Taiwan is one of the largest sources of foreign direct investment in Vietnam, having poured in $28 billion over the past two decades. In 2012, the most recent year data are available from the General Statistics Office of Vietnam, Taiwanese businesses pledged to invest more than $2.6 billion in the country, making the island—which Beijing considers a breakaway province—the second-largest investor in Vietnam, behind Japan.
Vietnam needs Taiwanese investment. Growth in Vietnam's gross domestic product averaged well above 7 percent in the years before the country joined the World Trade Organization in 2007 but has been tepid ever since. The global financial crisis, runaway inflation, and overextended banks have seriously hurt the economy. Growth in 2012 was just 5.2 percent, the slowest since 1999, and last year was only slightly better at 5.4 percent. The World Bank expects the economy in 2014 to expand 5.4 percent again, the seventh consecutive year it has grown less than 7 percent. Meanwhile, neighbors such as Indonesia and the Philippines have grabbed the spotlight away from what was supposed to be Asia's next tiger economy. Around the time of joining the WTO, "there was a lot of excitement about Vietnam as the next China," says Christian de Guzman, senior analyst in Singapore with Moody's. "You sort of don't hear that anymore."
Because of higher costs in China, though, Vietnam has a chance to get back on the fast track. As Chinese provincial and city governments increase minimum wages, manufacturers are looking for alternatives in the region—a key reason Taiwan set its sights on Vietnam. Costs in the Southeast Asian nation can be as much as 50 percent lower than in China, says Arthur Ding, a research fellow at National Chengchi University in Taipei. Taiwanese textile and garment companies invested $1 billion in Vietnam last year, according to the Taiwan Textile Federation. Vietnam has also attracted big money from South Korea: Samsung Electronics in March opened a $2 billion smartphone factory in Vietnam, and LG Electronics is spending $300 million on a new appliance factory in the country.
After the riots, however, the Taiwanese will need more than low costs to feel good about Vietnam. Liu of the Taiwanese council remains optimistic. The government has released "a very good document addressing some of the points we asked for," she says. If the central government doesn't follow through, some companies from Taiwan have plans to relocate, says Justin Huang, secretary general of the Taiwan Textile Federation. He wants Vietnamese leaders to deliver on their promises of compensation, tax breaks, and other incentives. "That would be helpful in keeping the factories in Vietnam," he says.
Before it's here, it's on the Bloomberg Terminal.
LEARN MORE