pursuits
This iPad App Tries to Take Student Eyes Away From Screens
By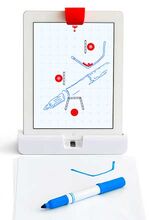 While many ideas exist about how to use technology in education, most involve students looking at screens and either typing or tapping on a touchscreen. A company founded by two former Google engineers has come up with a novel twist on this idea: allowing a child to play iPad-based games by moving blocks around a table or drawing on a piece of paper.
Osmo, made by a Palo Alto (Calif.) startup called Tangible Play, consists of an iPad dock, a reflector that fits over the device's camera, and three games that come in boxes with actual physical pieces. With the help of the reflector, the iPad watches what is happening in front of it so that kids can, say, build a puzzle with blocks based on a guide shown on the screen. Each time a new piece is put in the right place, the iPad lights up. There is also a game for spelling and another involving drawing. The target market is children ages 6 to 9.
Judging from a demonstration conducted via Google Hangouts, Tangible Play seems to have developed a genuinely new way of interacting with a tablet. "The area suddenly goes from an 8×10-inch screen to the whole table," says Pramod Sharma, one of the company's co-founders.
The idea is essentially the reverse of augmented reality, where people hold mobile devices up to the real world and see reality filtered through a screen. Here, interactions with the real world are reflected on a screen. Sharma says the concept came from his work on Google's book-scanning effort, another computer-vision project. The initial concept was simple: a compelling new form of mobile gaming. But when Sharma and his co-founder, Jerome Scholler, showed it to an acquaintance several months ago to see how her children would react to it, she immediately suggested taking it to schools. Soon they were testing Osmo in a half-dozen local schools. It's now in more than 100, Sharma says.
Tangible Play seems to have stumbled onto a tool for social-emotional learning, a burgeoning trend among educators based on the idea that teaching children to manage their feelings will lead to improved performance in academic and professional life. "My goal was to build a Nintendo sort of company, not an education company. I was blown away when people said this is a social-emotional learning tool," he says. "I asked, what is social-emotional learning?"
The company isn't the only one that sees the technique as a way to crack the market for technology in schools. In February, Trip Hawkins, one of the founders of the gaming company Electronic Arts, launched If You Can, backed by $6.5 million in venture funding. The company makes an iPad game called If that it believes can teach children to be more empathetic.
Vaughn Kauffman, a special education director for 12 school districts in Montana, got a demo of the Osmo at a conference in Dallas and immediately signed up to get a test unit. Her districts have been using the device for several months, and she's been happy with how quickly students have taken to it. Kauffman says its ability to hold their attention to tasks that they can't pick up at first is striking. "They can persevere and keep trying. It's a lesson most kids don't get," she says.
It's still early days for Tangible Play. The company has raised a round of seed investment, although Sharma declined to say for how much. It officially opened for business on Thursday with a crowdfunding campaign on its website—for a $49 contribution, backers will get the hardware for the iPad and three games. The company eventually plans to sell the hardware and games as a package for $99. It is hoping to raise $50,000. In time, it will add new games and encourage independent developers to make programs that work with the hardware.
Because it involves building hardware, Tangible Play will need more capital than the average iPad game developer. But the company says it is hearing a lot of interest from an unusual source of funding: the teachers who have played with the prototypes. Kauffman isn't one of those teachers, but she says the appeal is clear. "When my brother—who isn't a teacher—saw the game, his first question was, 'Do they need investors?'"
Before it's here, it's on the Bloomberg Terminal.
LEARN MORE