The Next Wave of Talent? The High-Potential Boss
by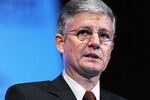 Few people know more about global leadership than Claudio Fernández-Aráoz. The Buenos Aires-based senior adviser at search firm Egon Zehnder is a favorite of CEOs and business schools around the world for his sharp instincts.
He's spoken about Great People Decisions, his first book, to audiences at Harvard, Amazon, and the World Business Forum. In his new one, called It's Not the How or the What but the Who (Harvard Business Review Press), Fernández-Aráoz focuses on "potential" as the next wave of talent-spotting. Companies, he says, need to focus less on people's competencies when filling a job and more on the qualities that will let them pivot with the times. That's especially critical when picking someone for a CEO role, he argues. The world is simply too fickle and fast-moving these days to know what any job will require. "You have to start with the right mindset," says Fernández-Aráoz. "The skills that make you successful today might not be so important tomorrow."
That said, he argues that the current focus on "high-potential" employees is misguided. One problem is that the label is reserved for younger people coming up the career ladder. If you're not dubbed high-potential by the age of 40, forget it. More important, those labeled as high-potential are more often highly competent in a certain set of skills. They've been measured by what they've done, instead of how or why they've done it.
Fernández-Aráoz says companies should instead hire based on five indicators of a person's potential: motivation, curiosity, insight, engagement, and determination. To him, motivation is less about someone's scope of ambition than his or her desire to have an impact. "Selfish people never make great leaders," he says. Curiosity, meanwhile, is typically illustrated by a history of seeking out new experiences, skills, roles, and challenges. Do they try new things? Ask for feedback from a range of customers and colleagues? Insight, the third indicator, often comes to those who have both industry expertise and exposure to other disciplines. They see connections where others don't. Engagement is an ability to connect with others and motivate them to succeed. Ask about who they've mentored, not who has mentored them. Finally, determined leaders are resilient. They know how to get around obstacles and recover quickly from failure. They take on tough assignments and adapt as markets change.
What will drive this focus on potential isn't just volatility in the environment, the recruiter argues, but scarcity in the talent pool. Companies have become accustomed to seeing a tsunami of résumés for every senior job. If they can't find the right person in their mythical pipeline, the logic goes, they can just hire an experienced leader from somewhere else. That strategy is ever more risky in a world where global opportunities expand and the supply of skilled younger managers shrinks thanks to a combination of aging boomers, stagnant opportunities, and underemployed youths. Companies might hang on to their designated stars with more pay and perks, but the risk-takers who see ideas shot down and opportunities squashed will move on.
One of the biggest mistakes that employers make is assuming potential is only found in younger, less experienced people. In fact, Fernández-Aráoz says, it shows up in all ages and positions. He cites 77-year-old Jorge Mario Bergoglio, a fellow Argentine (better known now by his current moniker, Pope Francis), as a role model of potential. The pope's focus on dialogue, engagement, and challenging conventional wisdom displays an openness to growth. Some of the most accomplished and brilliant young graduates, by contrast, can be utterly lacking in it. Some of the best future leaders may be the quirkiest, least "ambitious" people in an organization. They might seem less interested in prestige than purpose; look less like a Master of the Universe than Auntie Mame. "A lot of great leaders don't start out wanting to become one," says Fernández-Aráoz. They're most excited by things other than their own careers. That gives them the potential to pivot when the world changes.
Before it's here, it's on the Bloomberg Terminal.
LEARN MORE