The DOT Proposes a New Rule on Fees, and Airlines Fume
By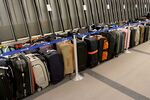 After tackling tarmac delays, unclear airfares, and passenger bumping, U.S. regulators are now trying to make airlines post prices for the flood of fees that now accompany flying, from checking your bag to choosing a particular seat.
The proposed Department of Transportation rule is the latest consumer-protection effort advanced by the Obama administration, which has been keen to make the total price of an airline flight abundantly transparent. "Knowledge is power, and our latest proposal helps ensure [that] consumers have clear and accurate information when choosing among air transportation options," U.S. Transportation Secretary Anthony Foxx said Wednesday in a statement.
Airlines, on the other hand, contend that such rules are an intrusive hand in their business and that the government is treating them unfairly compared with other industries, such as hotels and car rental companies. The proposal would require airlines to disclose the various fees they charge for aspects of a trip that once were bundled into the base price, such as $25 for checking a suitcase or the various prices airlines charge for extra legroom or an aisle seat. Airlines quickly slammed the rule, which would also make them share their fee data with travel agents and others who sell their tickets. "We believe this proposal overreaches and limits how free markets work and will have negative consequences," the industry's trade group, Airlines for America, said Wednesday.
These extra revenues have become a bedrock of airlines' financial stability, with almost $1.5 billion in baggage fees and reservation-change charges accounting for 3 percent of the U.S. industry's revenue in the fourth quarter last year—and one-fifth of its profit. Other fee revenue is not broken out and reported to the government, and airlines continue to research new revenue streams.
The rule would also expand the number of airlines required to report monthly data on their on-time arrivals, mishandled baggage, and seat oversales, which lead to passenger bumping. The current regulations cover airlines with 1 percent of domestic scheduled service; the new rule would lower that to 0.5 percent and thus include smaller carriers, such as Spirit Airlines and Allegiant Travel. The proposed rule is subject to a 90-day comment period before the DOT can proceed.
The fee-disclosure rule comes as airlines are furiously working Congress to pass a bill that would let them display base airfares without including taxes and mandatory fees, as they did for many years before the DOT banned that practice in 2012 with a similar consumer-protection rule. Airlines unsuccessfully sued over that rule, which makes airlines show the total cost of a ticket purchase prominently and the various taxes and fees separately, if they wish. The industry wants Congress to overturn it with a new bill called the Transparent Airfares Act. The bill has passed a House committee, but it's unclear if House leaders will advance the legislation. There's no Senate version.
Airlines say the agency is allowing Washington to "hide" taxes within their product and that travelers have a right to know how much of a flight purchase is for taxes and fees. They also point out that hotels and car rental agencies are not subject to the same penalty in pricing their products, with some hotels sneaking in daily "resort fees" that are never included in the nightly room rate.
"Any trade group has to construct an argument that has to help its members, and I can see why they say this is hurting sales, but I'm not sure it is," says Henry Harteveldt, a travel analyst with Atmosphere Research in San Francisco. "If you take a look, airlines are flying at record levels of occupancy."
Before it's here, it's on the Bloomberg Terminal.
LEARN MORE