Siguler Guff Seeks $750 Million for Russia Private Equity
Jason Corcoran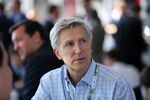 Siguler Guff & Co., a U.S. private-equity firm, expects to raise $750 million this year for a Russian fund as long as the standoff over Ukraine doesn't worsen, Managing Director Drew Guff said.
"We are delayed for a bit but we are on track and our target is for $750 million," Guff, who helps manage $10 billion in assets, said in an interview at the St. Petersburg International Economic Forum today. "The first closing will be this year, assuming there are no further political problems."
The fund is being raised by Siguler Guff's affiliate Russia Partners, which has about $1 billion of assets, including stakes in MTV Russia and MDM Bank. If Guff succeeds, it will be the most raised for private equity in Russia since October 2012, when Moscow-based Baring Vostok closed its fifth fund with a record $1.5 billion.
President Vladimir Putin's annexation of Ukraine's Crimea Peninsula in March and the subsequent standoff with the U.S. and the European Union stoked capital flight that surpassed $50 billion in the first quarter as economic growth slowed to 0.9 percent from 2 percent in the last three months of 2013, according to central bank and government data.
The Micex Index has fallen 5 percent this year, compared with a 3.5 percent gain in the MSCI Emerging Markets Index, making it harder for private-equity firms to attract new money and exit existing investments through initial public offerings.
"Who is not worried about the political situation?" Guff said. "Some fund investors want to wait and see if things are getting calmer, while others want to invest now and we are sorting them through."
Before it's here, it's on the Bloomberg Terminal.
LEARN MORE