Royal Mail Slumps Most Since IPO on Parcels Competition
Kari Lundgren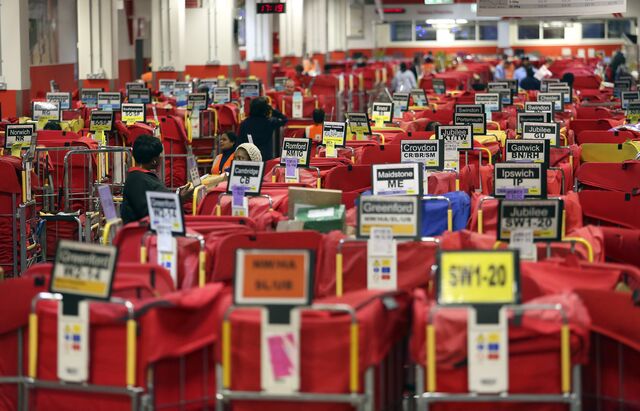 Royal Mail Plc fell the most since its 1.7 billion-pound ($2.9 billion) initial public offering last October after predicting tougher competition in a parcel-delivery market that contributes more than half of sales.
While Royal Mail boosted operating profit before one-time items 6.7 percent to 430 million pounds in the year ended March 30 as parcel revenue rose three times faster than the group total, new entrants could undermine margins, Chief Executive Officer Moya Greene said today.
"I think we will see pricing pressure," Green said in a phone interview. "There is no question that when you add capacity that's going to have an impact on the ability of some players in the market to maintain pricing."
Royal Mail, one of Britain's top employers with 150,000 staff, has focused on parcels as the rise of Internet-based shopping spurs demand and letter deliveries continue to decline with the switch to e-mail. UK Mail Group Plc, the country's No. 1 independent postal company with 50 depots, yesterday said annual package sales rose 16 percent through March as it offers one-hour delivery windows and "You're Next" text messages.
Shares of Royal Mail, which plans to commence Sunday deliveries to help defend market share, fell as much as 10 percent to 517.50 pence before closing down 56 pence, or 9.7 percent, at 519 pence in London.
Amazon Move
The stock has lost 9 percent this year, though remains 57 percent higher than its IPO price of 330 pence on Oct. 11, giving a market value of 5.19 billion pounds.
Parcel sales appear to be the "problem child," with a move to allow items the size of a shoe box to be sent as small packages apparently failing to win back small-business clients lost after an earlier price increase, RBC Europe Ltd. analyst Damian Brewer said in a note to investors.
"As parcels are key to replacement of revenue lost from letters, this is an area which now much increases investment risk," Brewer said.
Greene said her company faces a likely revenue decline from Amazon.com Inc., which contributed 6 percent of parcel sales, as the world's largest online retailer establishes its own U.K. logistics network.
Group sales at Royal Mail rose 2 percent to 9.46 billion pounds, with parcels accounting for 51 percent of the total, Royal Mail said in a statement. UK Mail's overall revenue advanced 7 percent to almost 509 million pounds.
Royal Mail, which said it anticipates "single digit revenue growth, margin expansion and underlying free cash flow growth" in fiscal 2015, closed eight mail centers last year, bringing the number down to 40.
The U.K. parcels, international and letters unit saw package sales climb 7 percent in the 12 months on volumes that were flat at about 1.1 billion items.
Royal Mail's net debt narrowed to 555 million pounds from 906 million euros. The board has recommended a final dividend of 13.3 pence a share.
Before it's here, it's on the Bloomberg Terminal.
LEARN MORE