business
Can Pinterest Be Found in Translation?
The wish-list sharing site faces cultural barriers to expansion
By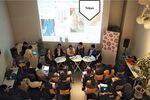 Pinterest is all about dreams and desires, but its visions are distinctly American. The company says 70 percent of its users, which ComScore estimates at 60 million, are in the U.S. Now Pinterest, which announced on May 16 that it had raised $200 million in funding, valuing the company at $5 billion, is trying to attract users in Asia and Europe with customized versions of its site, which lets people display collections of items they like.
On a trip to Japan late last year, Pinterest's head of international business, Matt Crystal, spent a few hours in the Tokyo kitchen of a woman in her forties, inquiring about her cooking habits. When he asked where she kept recipes, she pulled out a drawer full of papers. He then began to show her how to store them on Pinterest. That way, he said, she could keep track of what she liked and find recipes from other cooks. It was one of several house calls Crystal made that week on one of a series of international research trips.
Pinterest more than doubled its international audience last year and expanded to include 31 languages. Even though it isn't dependent on text, the social network is difficult to translate because it's so tailored to U.S. tastes. A recent Pinterest home page in the U.S. included images of a recipe for a chorizo garlic shrimp burger, a tutorial for wedding hairstyles, and ideas for pretty tattoos. None of those tastes or fashions are necessarily universal. "There's a level of nuance and cultural understanding beyond translation that's important," Crystal says. So he and seven others at the roughly 300-employee company are figuring out how other cultures spend time on the Internet and how Pinterest should be tweaked to match.
In Japan, users told Crystal the site's translation of English into Japanese was slightly off and the content too American. Last year he began putting employees on the ground in Paris, London, and Tokyo to explore local habits and persuade area fashion and cooking bloggers to regularly publish on the site. It's a slow process, one the company says it will replicate around the world. "We're not a viral product," says Crystal, who wouldn't disclose traffic numbers. "It's just word of mouth."
Pinterest's new valuation, double that of a year ago, makes it potentially worth more than Pandora or Yelp. Backers, who have invested $764 million to date, say the site has tremendous value for advertisers because it's largely built around tracking the products people like and might want to buy. Says Jeremy Levine, who led funding for one of Pinterest's largest investors, Bessemer Venture Partners: "Other entrepreneurs are starting to copy the idea, and you don't want to wait for someone else to get it right." Although companies used to wait six or seven years to expand overseas, now Internet upstarts can't afford to take so much time. Pinterest says some of its new funding will help finance its expansion abroad, though it declined to estimate how much is earmarked for the effort.
"There are two key dimensions to the business—growing the usefulness of Pinterest to get more people to use it and building out the business model," says Levine. "The ultimate size of the company is more impacted by the former." Brian Blau, an analyst at Gartner, says of the company's overseas efforts, "It seems like they're taking they're time, but they're going to have to deliver."
In the U.K., Pinterest has recruited bloggers such as Will Taylor, the author of interior design book Bright Bazaar, to promote the site. Crystal's staff persuaded 10 crafts makers to blog about Pinterest each day for a month last spring, an effort to ratchet up local interest. Crystal says Chief Executive Officer Ben Silbermann makes a point to connect with popular bloggers such as French crafter Sarah Noly and Italian fashion blogger Chiara Ferragni, answering their e-mails and listening to their expansion advice.
The four-year-old company began to charge for ad space in the U.S. this month, but its international team isn't trying to sell ads yet. For now Pinterest is expanding in the U.K., France, and Japan, and planning to hire local staffers in Germany and Brazil. "Some tech companies might look at that and say it doesn't scale, but we need to listen and learn in order to succeed," Crystal says. "It's nuance you don't get until you're there on the ground." Now he has to figure out how to make that nuance pay.
Before it's here, it's on the Bloomberg Terminal.
LEARN MORE