Pandas Show Belgium Dilemma Before Another Disputed Vote
James G. Neuger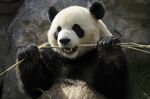 Belgians can't even agree on pandas. Now let's see if they can form a government.
The panda war broke out last year, when the Antwerp Zoo, in the northern Dutch-speaking region, griped that a rival animal park in the French-speaking south used its connections to Belgium's prime minister (a French speaker) to obtain two of the cuddly critters from China.
The same north-south animus blocked the setup of a government for a record 541 days after the 2010 election and will pervade Belgian politics after this year's vote, on Sunday. While the risks of Belgium falling apart have receded, clashes over economic policy may put off an accord on a ruling coalition for months.
"The political situation is still quite tense," said Cyril Regnat, a strategist at Natixis in Paris. "There will be very tough negotiations after the election, but I don't think we'll have to wait more than 500 days to have a government."
The electoral rematch pits Bart De Wever's N-VA party in the Dutch region against Elio Di Rupo's Socialists in the south. De Wever was the top vote-getter in the north in 2010, though he lacked allies to form a government that would carry out his stated goal of gradually disassembling the country. He settled for becoming mayor of Antwerp instead.
Six-Party Coalition
Di Rupo became prime minister in December 2011, the first from the French-speaking south since the 1970s. His six-party coalition enacted a constitutional overhaul that transferred some powers to the regions, easing the separatist sentiment stirred up by De Wever in the wealthier north.
This time, De Wever, 43, is emphasizing economic themes, acknowledging that the two-thirds parliamentary majority needed for further devolution is out of reach. N-VA support is at 31.9 percent in Flanders, up from 28.2 percent in the 2010 election, according to a TNS-Media/Dimarso poll published in De Standaard on May 16.
"This time around, it's not going to be about devolution - - even De Wever has already said that," said Marc De Vos, director of Itinera, a Brussels think tank. "It's about economic reforms. He has to demonstrate a willingness to govern."
De Wever's program centers on a freeze in federal spending and cuts in labor taxes. For most of the campaign, he had his eye on the regional government in Flanders, seeking to influence national affairs from there. He changed his mind on May 21, saying he'd like to be prime minister after all.
'Best Intentions'
Berating Di Rupo for shunning a one-on-one debate, De Wever turned to Belgium's French speakers in a pre-election videogram. "I understand your worries about my party's proposals," he said. "We have the best intentions on your behalf. My priority is to deal with social and economic problems."
Usually sporting a bow tie in trademark Socialist red, Di Rupo, 62, is fighting to defend his base. A La Libre Belgique poll on May 14 put the Socialists at 28.7 percent in the south, down from 37.6 percent in the last election. The Reform Movement, a potential national coalition ally for De Wever, is at 21.8 percent, close to its 22.2 percent score in 2010.
Belgium weathered the European debt crisis better than most countries, with gross domestic product outperforming the euro-area average every year since 2008. The European Commission predicts economic growth of 1.4 percent in 2014, besting the 1.2 percent of the overall euro area.
Toward Zero
With debt at 101.5 percent of GDP and public spending equaling 54.6 percent of GDP in 2013, growth hasn't been fast enough to push the budget deficit toward zero. Di Rupo came to power after Standard & Poor's downgraded Belgium's credit rating and winds up his term under renewed pressure to trim the deficit.
Belgium's splintered political scene makes unwieldy coalitions the norm. Di Rupo's Socialists and an allied party from Flanders talk up social protection and taxes, while other parties in the current government err on the side of business promotion and tax relief.
Di Rupo has yet to persuade the European Union that Belgium will meet a goal of cutting the deficit to 2.15 percent of GDP in 2014 from 2.6 percent last year. A mid-October European deadline for submitting next year's budget looms as a target for the new government to be up and running.
Bond Yields
Ten-year Belgian bonds now yield 1.97 percent, close to the 1.90 percent record low during the euro era that was reached on May 3, 2013. Political ructions after the election are unlikely to rattle the market, said Piet Lammens, head of research at KBC Bank in Brussels.
"Our debt ratio is not moving higher and we have some growth and have a reasonable outlook economically," Lammens said. "It would be very strange if there would be an attack specifically on Belgium, which has quite good fundamentals."
Simultaneous elections at the local and regional level will complicate the setup of the national government, since De Wever may seek first to put together a Flanders regional government before deciding the N-VA's strategy for the federal level.
De Wever has made a personal pastime out of taunting Di Rupo. Showing that he is a political animal, De Wever donned a panda costume on a TV show in March to make fun of the Francophone prime minister.
Which brings us back to the actual pandas. Hao Hao and Xing Hui now reside at Pairi Daiza SA, close to Di Rupo's hometown of Mons. The park reported record visitor numbers for the first two weeks of the season, calling the furry Chinese natives "genuine catalysts" for business.
Before it's here, it's on the Bloomberg Terminal.
LEARN MORE