One Question: Has the B-School Experience Been Worthwhile?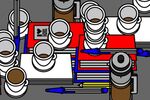 In our continuing series, we ask MBA students from all over the world one question to get at what the next generation of business leaders is thinking. This week we asked: In what way has the MBA experience lived up to or exceeded your expectations? In what way has it let you down?
Getting exposure to real-life business problems has helped me think more critically to tackle challenges. My confidence to speak as a business leader has grown due to the strong leadership focus in the program and opportunities to be trained by amazing leaders.
One way I would improve the experience is that I wish I could have had more time to take it all in during my first semester. This rapid MBA immersion was crucial to help me think on my feet and become more thoughtful about my career choices."
—Janice Claudio Morales '15, Johnson Graduate School of Management, Cornell University
I come from a nontraditional background, so in many ways the MBA was a radical shift for me. But my classmates, professors, and career staff have made the transition smooth.
I don't know if it's a letdown, but the MBA is a lot harder than I thought it would be. I had always referred to it as a two-year vacation, but it's been very challenging. The material isn't rocket science, but the time commitment is not for the faint of heart.
—Damian Kearney, Johnson Graduate School of Management, Cornell University


"The sense of community here has truly blown my mind. Before coming here I thought the whole Team Fuqua thing sounded a little cheesy, but being here it has had a hugely positive impact on my experience. From academics, careers, and life outside Fuqua, the community here has been so supportive of each other pursuing their goals."
—Simon Moore-Crouch, Fuqua School of Business, Duke University


Applying to business school and then actually attending a program was a huge decision for me. I spent months making my decision because of the expense and the opportunity costs involved. I was also worried about being a few years older than most other MBAs. However, I was eager to make a career switch from consulting to the tech industry, and felt business school was one of the best ways to prepare for this transition. The community here is very diverse, particularly in terms of work experience and academic background, something I was not expecting coming into business school. But these diverse backgrounds bring new perspectives and foster dialogue, which has been a humbling and fantastic learning experience.
My MBA experience has been very positive thus far, but I think I had forgotten how tough it is to be a student. Being a consultant prior to coming here had spoiled me with all the globetrotting and fancy dinners and high-flying lifestyle in New York. Quitting my job and suddenly having to worry about my expenses and then doing homework was a transition I had not given much thought to until I was in the thick of it. There are so many readings, assignments, and group projects, on top of all the fun clubs, social activities, leadership activities, in addition to all the recruiting and networking. It's hard to do it all but very easy to overcommit to all these really fantastic opportunities. Sometimes I wish I didn't have to live at the mercy of my Outlook calendar!
—Arnab Mukherjee '15, Johnson Graduate School of Management, Cornell University
The MBA experience has been arguably the best time of my life. It has completely exceeded my expectations in terms of the quality of my education and program, the long-lasting friendships I've made, the career opportunities, and the amount of fun I've had during my first year! I couldn't speak more highly of this experience and haven't been let down in any sense.
—Jessica Fischburg '15, Kenan-Flagler Business School, University of North Carolina
The MBA experience has exceeded my expectations, primarily thanks to being a Consortium member and Park Leadership Fellow. After attending the Consortium's orientation program I was blessed to start my experience with a family that I could already depend on for personal, social, and academic needs. Additionally, the Park Leadership program has given me the opportunity to challenge myself along with 25 incredible individuals to have open and honest discussions to discover our natural leadership style. Through experience-based learning, this two-year program has already helped me become a more self-aware leader and stay true to my passions.
—Safiya Miller '15, Johnson Graduate School of Management, Cornell University


I received the rigorous and challenging education I desired, I've been exposed to students, alumni, and faculty who expect me to deliver on my potential, and I've worked for the opportunities I desired with prominent firms. Most humbling, though, has been the strength of the relationships I have formed with many of my classmates. Any entrepreneurial venture I enter in years to come will be with some of those very same students. Nothing has let me down. The only thing that could let one down about the MBA experience is oneself.
—Dominic Rasini, Simon Graduate School of Business, University of Rochester
Before it's here, it's on the Bloomberg Terminal.
LEARN MORE