Obama and the Broken Veterans Medical Care System: Four Blunt Points
Paul M. Barrett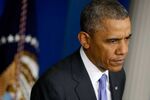 Everyone's "mad as hell" about the Veterans Affairs medical scandal. Jon Stewart's swearing. President Barack Obama, looking about as angry as he can look, declares he "will not tolerate it." House Majority Leader Eric Cantor (R-Va.) is "disturbed" by reports suggesting Obama first learned of the latest allegations from news reports rather than his aides.
What's going on? Four blunt points:
1. Veterans, of all people, get consistently shortchanged on health care. Obama said at his hastily arranged White House appearance May 21 that he's waiting for a report from the VA inspector general on whether, in an attempt to cover up its shortcomings, the federal agency kept secret waiting lists of veterans seeking to see doctors. Some of those on the lists allegedly died before getting treatment. "If these allegations prove to be true, it is dishonorable, it is disgraceful, and I will not tolerate it, period," Obama said after a private briefing by VA Secretary Eric Shinseki.
2. Shinseki has to go. The VA's top health official, Robert Petzel, resigned last week. The White House claims Obama still "has confidence" in Shinseki and will wait on any further high-level personnel action until after investigators get to the bottom of the coverup allegations at a veterans' facility in Phoenix. A retired four-star general who served as Army chief of staff under President George W. Bush and correctly predicted the Iraq occupation would require many more troops than then-Defense Secretary Donald Rumsfeld insisted, Shinseki deserves his solid reputation as a brave former soldier. But complaints about severe medical and benefit backlogs have haunted Shinseki's entire five-year tenure at the VA. He has streamlined procedures but clearly hasn't cleared the agency of all its dead wood. Texas Senator John Cornyn and other Republicans are calling for his ouster. As a symbol of White House seriousness, this decorated leader has to step down and speak candidly about what's slowing reform.
3. Obama is particularly vulnerable on this issue. As Stewart profanely reminded his audience, the president made veterans' treatment an emotional campaign issue in 2008. In the years since, Michelle Obama has identified veterans as one of her discretionary First Lady priorities. Senator John McCain of Arizona, still suffering emotional scars from his unsuccessful 2008 Republican presidential run, wasted no time in blasting the administration yesterday. "While I'm glad that after many weeks of refusing to acknowledge this widening scandal, President Obama finally saw fit to speak about it today," McCain said, "but his remarks are wholly insufficient in addressing the fundamental, systemic problems plaguing our veterans' health care system. … We need answers, leadership, and accountability, none of which we've seen from the Obama administration to date."
4. Republicans, of course, are shamelessly exploiting the fiasco. They're pushing for withdrawal of Obama's nomination of Jeffrey Murawsky as the new VA undersecretary for veterans health, calling him a "career administrator" from within the agency's tainted ranks. Senate Veterans' Affairs Committee Chairman Bernard Sanders (I-Vt.) said it would be "unconscionable" to politicize the issue in this fashion. Here's an idea: How about taking a close look at the fellow and determining whether he's been a force for improvement or part of the problem? Meantime, let's not forget that military health care has shown signs of serious dysfunction since long before Obama moved into the White House. During the George W. Bush years, the Walter Reed Army Medical Center had to be shut down after the Washington Post revealed systematic patient neglect.
Care of veterans has been a source of national shame for many years. It's time for members of both parties to find out why and fix it.
Before it's here, it's on the Bloomberg Terminal.
LEARN MORE