McDonald's Unhappy Image
By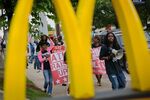 McDonald's used to be good at a lot of the things companies have to do, most notably image-making. It sells Happy Meals. Most of its executives started out as hourly workers. But that good cheer is getting harder for the world's biggest fast-food chain to sustain. Consider the events of just the past week. First were global protests by fast-food workers on May 15 over working conditions and wages. Then, on May 21, more than 100 employees from around the U.S. were arrested at the company's headquarters outside Chicago. They were protesting for higher wages and the right to join a union. The head of the Service Employees International Union, Mary Kay Henry, was arrested, too.
McDonald's made matters worse—for its image—by encouraging most of its 3,200 corporate employees to work from home that day. The stated reason? Traffic concerns. The company went so far as to shut down one of the five buildings on its campus entirely. That would be the one that houses the operations of its U.S. business and where 2,000 people typically show up for work.
Today McDonald's held its annual shareholder meeting. Journalists weren't allowed in (a webcast is available). The company said that's because the press hadn't shown much interest previously in attending. Protestors chanted, from a distance: "Hold the burgers, hold the fries, make our wages supersize."
Inside, Don Thompson, the chief executive, tried to persuade shareholders that McDonald's new character, named Happy, isn't as scary as critics have said. And as a general response to all the other criticism of its marketing and labor practices, Thompson said: "We are people. We do have values at McDonald's. We are parents."
The context for all this: slowing U.S. sales and increasing competition. That may be the grimmest news of all for McDonald's shareholders. Thompson isn't immune to the consequences. His total compensation fell to $9.5 million in 2013, from $13.75 million in 2012, according to the company's proxy statement. At the meeting, shareholders approved an advisory measure on executive pay.
When a child in the audience told Thompson he wanted to be considered for the CEO job one day, Thompson replied: "Bob, there are some days I'm ready to give it to you, buddy."
Before it's here, it's on the Bloomberg Terminal.
LEARN MORE