Hedge Funds Get Fat on Lehman's Remains
Trading distressed debt pays off for fearless investors
by and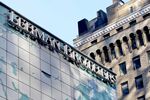 Almost six years after Lehman Brothers Holdings filed for the largest bankruptcy in history and triggered a global market meltdown, hedge funds are still feeding on its remains. A few firms that waded into the morass following the financial crisis and have spent years analyzing the bankruptcy—including Paulson & Co., King Street Capital Management, Värde Partners, Halcyon Asset Management, and Solus Alternative Asset Management—have made billions of dollars trading in Lehman's debt. And as they collect on claims or sell them, investors are buying ones that come on the market.
Founded as a cotton brokerage in Alabama in 1850, Lehman failed after taking on too much debt and making risky real estate investments, according to the bankruptcy examiner's report. It filed for Chapter 11 in September 2008, listing debt of $613 billion. A trustee was appointed to sort out the company's affairs, including collecting all the money it was owed, determining how to distribute it, and deciding whether and when to sell remaining assets. The claims against Lehman included rent due on office space, short- and long-term loans, and money owed on investments such as derivatives contracts.
Recently, for example, Lehman's Hong Kong unit began selling loans it had made to the U.S. unit. "A little of a surprising aspect is that there's still this much return left in it this far along," says Marcia Page, co-chief investment officer of Värde. "There's just so much debt."
Lehman has been "the trade that keeps on giving," John Paulson, whose firm has made more than $1 billion on its investment, told clients on an April conference call. In July 2013, Lehman estimated it would recover $80.6 billion, compared with the $65 billion projected in the company's liquidation plan approved in December 2011. So far it has distributed more than $56 billion to outside creditors.
The value of Lehman debt has risen about 45 percent since the beginning of 2013, according to a Paulson & Co. letter to investors. The $21.4 billion hedge fund firm, which held more than $750 million of the claims at the end of 2013 and at one point was the largest creditor in the bankruptcy, anticipates returns will keep coming. "We expect incremental returns will be driven by litigation recoveries and higher asset realizations versus management estimates," the letter said. A spokesman for the fund declined to comment on the investments.
Lehman estimated in 2011 that the average creditor would get about 18¢ on the dollar for $370 billion in claims payable by 2016. There's an incentive to maximize payouts to creditors: The bank's directors—including John Suckow, an executive at restructuring firm Alvarez & Marsal, who now serves as Lehman's president—will receive bigger bonuses if they raise money beyond the original target.
The first big sellers of Lehman claims were trading partners such as Morgan Stanley, which unloaded its holdings in 2009 and 2010, according to two people with direct knowledge of the matter who asked not to be named because the information is private. Paulson and Värde were among the earliest buyers.
Lehman debt started trading shortly after the filing at about 8¢ on the dollar for the parent company and the mid-teens for the broker-dealer unit. The assets rose in value after the bank's trustees sold some assets more quickly than expected. For example, the $1.75 billion sale of the company's still-functioning brokerage unit to Barclays received court approval at a speed that U.S. Bankruptcy Judge James Peck called "unheard of." The assets also benefited from central banks' efforts to rescue the financial system from the global credit seizure caused by the bank's failure, which kept interest rates down and pushed up prices of everything from real estate to derivatives.
Investing in the distressed bonds and loans has been lucrative in part because it's a buyer's market. The claims are complicated to analyze—their value sometimes hinges on decisions made by judges—and may take a long time to pay off. That limits the pool of potential investors to companies with deep pockets and teams of analysts. No more than about 20 hedge funds have bought Lehman debt consistently since the collapse, estimates Scott Hartman, a managing director at Värde who focuses on the bankruptcy.
The investment, which represents a percentage of Värde's holdings in the "low double digits," he says, has been "a huge generator of profit over the last five years." Hedge funds often use Lehman profits to buy more claims. "When you get that money back the market has tended to reinvest it," he adds.
Lehman in its reorganized state will exist until its assets are liquidated. Hedge funds say that in an otherwise barren market for large U.S. distressed debt, Lehman offers the best prospect for profits, along with Energy Future Holdings, which filed for bankruptcy in May. They expect to trade Lehman claims for as many as three years before the supply finally dries up. "There's still opportunity in the Lehman structure," says Hartman. If there are no big corporate defaults in the next three to four years, he adds, "everybody will have a bit less to do than they do today."
Before it's here, it's on the Bloomberg Terminal.
LEARN MORE