JD.com Goes Public, and China Has a New Internet Billionaire
By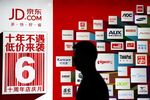 China has a new Internet billionaire. Richard Qingdong Liu is the 41-year-old founder and chief executive of JD.com, a Beijing-based online retailer that is the closest thing to a Chinese version of Amazon.com. Nasdaq trading of the company's shares started on Thursday, and by the end of the day JD.com's stock price had jumped 10 percent. With the IPO, Liu's net worth is more than $6 billion.
That should make it easier for Liu to sit down with his fellow billionaire, Tencent Chairman Ma Huateng, aka Pony Ma. Tencent is China's largest Internet company by market value; Ma's net worth is $14.2 billion. Liu has joined forces with Ma in an expensive fight for dominance among China's leading Internet companies, Alibaba, Baidu, and Tencent, that has extended beyond the Big Three to their many partners.
Alibaba, Baidu, and Tencent have all been making deals that position them for the next big growth spurt in the world's largest Internet market. Thanks to Ma's confidence in Liu, Team Tencent is about to enjoy a big win. It owns a 15 percent stake in JD.com, which it bought in March for about $215 million. Yesterday, in the biggest IPO ever for a Chinese company, JD.com priced its shares at $19 apiece, giving the online retailer a market valuation of $26 billion.
JD.com will raise $1.78 billion from selling shares to the public and $1.3 billion from an additional investment by Tencent. That capital will help the company as it tries to close the gap with Alibaba, which has long dominated Chinese e-commerce. Alibaba is on track to have a much larger IPO of its own in the U.S.; indeed, the buzz surrounding Alibaba probably fueled investor interest in JD.com. "This was clearly driven by demand for Chinese names," James Gellert, CEO of New York's Rapid Ratings International, told Bloomberg News.
JD.com isn't an Alibaba clone, though. It sells products itself and operates its own logistics network, making the company more like Amazon than Alibaba's Taobao and Tmall, which are marketplaces for others to buy and sell goods. And as a member of Tencent's network, JD.com should benefit from the immense popularity of WeChat, Tencent's WhatsApp-like mobile app. China is the world's largest smartphone market, and mobile shopping penetration in China is expected to increase from 9.2 percent last year to more than 20 percent by 2016, according to iResearch.
With Tencent and JD.com working together, WeChat can provide many Chinese consumers with an easy way to find items to purchase on JD.com. That's something that Alibaba, which has struggled to persuade people to use its mobile app, has yet to match.
Before it's here, it's on the Bloomberg Terminal.
LEARN MORE