Happy Hump Day for Japan Stock Market: Chart of the Day
Sarah McDonald and Toshiro Hasegawa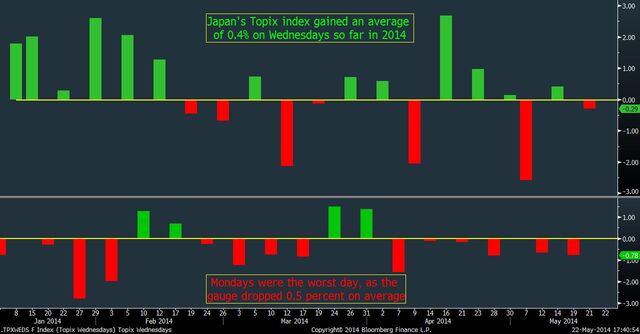 As Japanese stocks slump, investors have one small comfort: hump day.
The CHART OF THE DAY shows the Topix index gained an average 0.4 percent this year on Wednesdays, the so-called mid-week hump. That was the only day with a positive return as the measure sank 10 percent over the period. The bottom panel shows Mondays, when investors lost the most: 0.5 percent on average.
Good news has been hard to come by in 2014 as concern about Prime Minister Shinzo Abe's progress in reviving the economy drives the steepest developed-stock decline. The gains eked out on Wednesdays come after what's typically the best session for U.S. stocks, with the Standard & Poor's 500 Index jumping an average 0.4 percent on Tuesdays this year, data compiled by Bloomberg show. The gauge has gained 2.4 percent in 2014.
"Hedge funds trading Japanese shares are targeting half-day or one-day gains, and many of them think Japan will move the same way as the U.S.," Tatsushi Maeno, head of Japanese equities at PineBridge Investment Japan Co. in Tokyo, which oversees about 300 billion yen ($2.9 billion), said by phone yesterday. "If you believe the trend will continue, you should sell on Friday, buy back after shares fall on Monday and then sell on Wednesday."
The Topix saw gains on Wednesdays and Thursdays in the decade through 2013, and declines the other three days with the biggest on Tuesdays, data compiled by Bloomberg show.
"The drop on Mondays in 2014 shows people basically aren't bullish on Japan," said Maeno. "They take a break and process information over the weekend, decide they're not optimistic and sell again the next week. That's the mentality at play."
Before it's here, it's on the Bloomberg Terminal.
LEARN MORE