Facebook Adjusts Its Privacy Controls—Again
by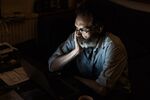 For years people have been complaining that Facebook's privacy controls are too confusing, and the social network made several changes to these policies on Thursday that indicate it agrees.
For new users' first post, Facebook's default setting will be to share only with their friends. This makes sense, considering that someone who hasn't been on Facebook before is less likely to realize what kind of risks he's taking by posting private thoughts. "We recognize that it is much worse for someone to accidentally share with everyone when they actually meant to share just with friends, compared with the reverse," the company says in a statement posted on its website.
In addition, Facebook is rolling out a privacy checkup tool, which will remind people whom they are sharing with, which apps they're connected to, and what kind of information they're sharing through their profiles. Facebook users will begin seeing the checkups over the next couple of weeks.
The most prominent consumer Internet companies work on the basis of free services in exchange for personal data, but that market seems to be changing. Anonymity is in vogue, with apps such as Snapchat, WhatsApp, and Secret promising forms of communication marked by discretion. This isn't the first time Facebook has responded to this trend. At the company's developer conference in April it announced a series of improved privacy controls for people logging in to other apps using their Facebook credentials. This includes an option for anonymity.
At first glance it appears that Facebook's privacy changes are retreats from its basic, lucrative business model, in which more sharing is always better. But the changes are focused on quelling people's fears that they're going to embarrass themselves, not reducing the flow of information to the company itself. The more Facebook makes its users feel comfortable, the more fodder those users will generate—even if each post is being seen by fewer people.
Before it's here, it's on the Bloomberg Terminal.
LEARN MORE