What's the Best Way to Break Bad News?
What's the best way to break bad news?
by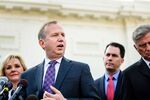 Scott Wyatt
Chairman, NBBJ
"I try to never go in with the answer. Starting with questions and an open mind is more likely to achieve a positive outcome. I always say: You've got two ears, two eyes, and one mouth. Use them proportionately."
Teresa White
Chief operating officer, Aflac
"Our CEO likes to say, 'Bad news doesn't get better with age.' I ensure that we have mutual respect and that the conversation is fact-based, honest, and direct. My goal is to always leave the person with whom I'm conversing with their dignity intact."
Jack Markell
Governor, Delaware
"Listen first. Put yourself in the other person's shoes. Be true to your own values."
Ruzwana Bashir
Co-founder and chief executive officer, Peek
"It's best to be direct in these situations, because so-called compliment sandwiches are easily spotted as inauthentic. Come prepared with examples that support the feedback and potential solutions for the problems."
Before it's here, it's on the Bloomberg Terminal.
LEARN MORE