The Democrats' Income Inequality Dilemma
Their House districts are more unequal than Republican ones
By , , and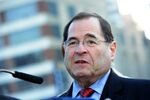 Democrats trying to win back the U.S. House of Representatives this year, or at least increase the number of seats they hold, have seized on the issue of income inequality. Party leaders have worked to keep the widening gap between rich and poor in the news since President Obama made it the centerpiece of his State of the Union address in January. There's just one drawback to this strategy: Income inequality is greater in Democratic congressional districts than in those held by Republicans.
Nationwide, 32 of the 35 districts in which income inequality is highest are represented by Democrats, according to an analysis of U.S. Census Bureau data. Republicans represent two; the other is vacant. Why do Democrats control so many? Because almost every one of the 35 seats is in an urban center dominated by two groups of people living in close proximity: highly educated, highly paid whites and poor blacks and Latinos. These groups are essentially the Democratic Party's base.
The numbers highlight a dilemma for Democrats. Clearly, extreme inequality correlates strongly with Democratic representation. Growing inequality will pose a threat to Republicans—one reason Obama and the Democrats are talking about it. But this is unlikely to benefit Democrats in the midterm elections. Of the 100 districts with the highest levels of inequality, not one held by a Republican is considered at risk of being stolen by a Democratic challenger.

Among the districts with the widest income gaps, most are 95 percent or more urban, Census data show. The district with the widest income gap belongs to New York Democrat Jerrold Nadler—it includes Wall Street as well as poor parts of Brooklyn. Nadler says escalating real estate prices driven by "Saudi princes" and "Russian oligarchs" are contributing to the widening gap in the district, home to the corporate headquarters of Goldman Sachs Group and Verizon Communications.
If you're curious about why two Republican lawmakers showed up on the list, it's because each of their districts turns out to represent a slight twist on this same urban formula. Florida Representative Ileana Ros-Lehtinen's district includes part of Miami and extends along the coast to the south. It encompasses Miami Beach ritz and a poor minority population that lives nearby—but the latter are mostly Cuban Americans who, unlike members of other minority communities, reliably vote Republican.
The other GOP district is Texas Representative John Culberson's, which is predominantly composed of the wealthy suburbs northwest of Houston. George H.W. Bush once held this seat. The extreme inequality stems from a Republican gerrymander in 2010, designed to help the party elsewhere, that added many poor Latinos to Culberson's constituents. "Republicans threw in the Gulfton neighborhood of Houston, which has one of the highest concentrations of undocumented immigrants in the country," says David Wasserman, House editor of the nonpartisan Cook Political Report. These poor residents don't threaten Culberson's seat because few of them vote. "Republicans were smart to include these nonvoting Latinos in Culberson's district," Wasserman says, because "they were able to pack more higher-turnout Democratic areas into other districts without marginalizing Culberson's hold" on the seat.
The wealth disparity common in Democratic strongholds is evident along a single block in Manhattan's Chelsea neighborhood, at the center of Nadler's district. Government-subsidized apartments are surrounded by Google's New York headquarters, a market selling $500 bottles of champagne, and the High Line, an elevated park driving sales of multimillion-dollar homes. "The area has changed dramatically," says Nadler, who's held the seat since 1992. "A lot of neighborhoods have become extraordinarily high-end."
BOTTOM LINE -
The bottom line: Democrats are campaigning on income inequality, yet the party holds 32 of the nation's 35 most unequal House districts.
Before it's here, it's on the Bloomberg Terminal.
LEARN MORE